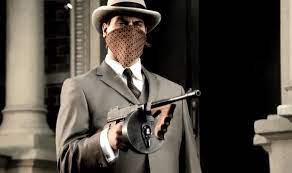 While the Connor family sleeps, Cameron (Summer Glau) goes to the library and meets her friend Eric (Billy Lush), night-time library attendant and bone-cancer survivor. Cameron has been doing this all along to improve her human disguise and her infiltration skills. She discovers a photograph from 1920 that reveals a T-888 model Terminator (Todd Stashwick), and her research shows that the Terminator travelled to the wrong date and was stuck there.
The machine, having accidentally killed the architect of the Pico Tower, a Los Angeles landmark, decided to create a new identity--the 1920s Los Angeles Realty Magnate Myron Stark—and wait to assassinate the governor of California as programmed to do in 2010. The T-888 designed and funded the building and placed itself inside a wall to wait for New Years Eve, 2010. Cameron finds and dispatches the Terminator. When she returns to the library later, she tells Eric that his cancer has returned. The next night, Eric is missing. She gives the doughnuts she brought for Eric to the new attendant and proceeds to cultivate her friendship.
John (Thomas Dekker) also sneaks out of the house, having received a phone-call from Riley (Leven Rambin). At a house party in Van Nuys, Riley steals a lighter from the host (Oren Dayan). When he accosts Riley, John proceeds to beat him up. John and Riley drive to a parking vista overlooking Los Angeles, discuss their relationship, and kiss for the first time. Cameron returns home and does the laundry.
The scenes from the 1920s were filmed on the Warner Brothers backlot, which was itself built in the Twenties. The meeting of Myron Stark with Rudolf Valentino (Branden R. Morgan) at the premiere of The Sheik features the first real-life person in the series. The costumes were designed by Amanda Friedland. The Pico Tower is imaginary and is on the corner of two streets that don't meet. Summer Glau's performance was highly praised as the real backbone of the series. According to the timeline, the Governor of California to be assassinated by the Terminator would have been Arnold Schwarzenegger.