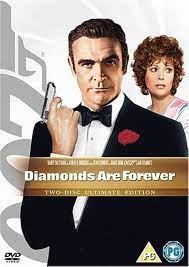 James Bond (Sean Connery) seeks out Ernst Stavro Blofeld (Charles Gray) and finds him at a facility where Blofeld look-alikes are being produced by plastic surgery. He drowns Blofeld in a pool of superheated mud. Meanwhile, Mr. Wint and Mister Kidd (Bruce Glover and Putter Smith), Blofeld's hired assassins, kill several diamond smugglers. M (Bernard Lee) tells Bond that South African diamonds are being stockpiled to enhance their value and assigns him to uncover the smuggling ring. Disguised as assassin Peter Franks, Bond travels to Amsterdam to meet a contact named Tiffany Case (Jill St. John). The real Franks (Joe Robinson) shows up and Bond kills him, then switches ID to give the impression that Bond is dead. Smuggling the diamonds inside Frank's corpse, he and Tiffany Case go to Los Angeles.
At the airport, Bond meets his CIA friend Felix Leiter (Norman Burton), then goes to Las Vegas. Frank's body is cremated and the diamonds passed on to another smuggler, Shady Tree (Leonard Barr). Wint and Kidd nearly cremate Bond, but Shady Tree stops them when he discovers that the diamonds are fake. Bond goes to the Las Vegas hotel The Whyte House, trying to meet the recluse billionaire Willard Whyte, where he learns that Wint and Kidd have killed Tree.
Bond meets Plenty O'Toole (Lana Wood) at the craps table and brings her to his room. Gangsters ambush them and throw Plenty out the window into the pool. Bond spends the night recruiting Tiffany Case and training her to get her hands on the diamonds at the Circus Circus casino. Tiffany reneges on the deal and passes off the diamonds to the next smuggler, but finds out that Plenty was killed, having been mistaken for her, and she changes her mind. She drives Bond to the airport where the diamonds are given to Bert Saxby (Bruce Cabot), Whyte's casino manager, who is being traced. Bond explores Whyte's research lab, where a satellite is being bult by Blofeld's pet scientist Doctor Metz (Joseph Furst), using the diamonds for its powerful laser. Bond is discovered and escapes in a Moon Buggy. Don't ask.
Bond breaks into Whyte's penthouse and is met by two identical Blofelds, who are imitating Whyte's voice. Bond kills one of them, succumbs to knock-out gas, is picked up by Wint and Kidd and dumped in a pipeline under construction in the desert to die. Bond escapes, of course, and calls Blofeld, pretending to be Saxby, finds Whyte's location and rescues him. Saxby is killed in a gunfight. Blofeld abducts Tiffany. Bond, with Whyte's help, raids the lab and discovers that the diamond-studded satellite has been launched into orbit, where it is being used to destroy nuclear warheads belonging to China, the Soviet Union, and the U.S. Then Blofeld, the only nuclear power, will auction off nuclear supremacy.
Whyte and Bond discover that an oil platform off the coast of Baja California is Blofeld's secret base. Bond goes there, hoping to change the launch codes, but Tiffany screws it up. Felix Leiter and the U.S. military launch a helicopter attack on the base and Bond manages to sabotage control of the satellite. He causes the base to explode and collapse into the sea. Bond and Tiffany have a nice time on a cruise ship, until Wint and Kidd try to kill them, but Bond kills them instead.
The film was produced by Eon Productions, directed by Guy Hamilton, based on Ian Fleming's 1950 novel. After George Lazenby declined to continue playing Bond following On Her Majesty's Secret Service, United Artists paid one and a quarter million dollars to get Sean Connery back. This was real money at the time. They were trying to bottle the old Goldfinger lightning with Guy Hamilton directing and Shirley Bassey singing the theme song. The result was both praised by critics and well-received by audiences, but many criticized  the dumb humour, referring to it as a Roger Moore movie starring Sean Connery. It was chock full of quirky action set pieces at the expense of the pacing and plot.
American Tom Mankiewicz wrote the script because it was set almost entirely in the U.S., but he still understood the British idiom of the series. He said British scriptwriters make terrible American gangsters. Filming was mostly done in hotels owned by Howard Hughes, who was a friend of producer Cubby Broccoli. The cinematographers liked filming in Las Vegas at night because they didn't need to use their own lights. Connery had a great time in Las Vegas too, gambling and going to shows and dating both Jill St. John and Lana Wood. Lana Wood (Plenty O'Toole) nearly drowned in the scene in the swimming pool but was a certified diver and remained calm. The house belonged to Kirk Douglas.
The Moon Buggy was found in the 1990s, rusting in Kent, and was restored by a James Bond Fan Club. The Planet Hollywood bar in Las Vegas bought it for $44,000. Tiffany Case is brash, loud, and argumentative, unlike the more demure British Bond-girls, but Jill St. John has an IQ of 162. The little machine in the oil pipeline is real. It is a smart Pipeline Inspection Gauge, or PIG. Howard Hughes allowed the studio to film in his hotels in exchange for a 16mm print of the movie. There is a jewelry shop in London called Wint and Kidd. Putter Smith (Mr. Kidd) was a music-teacher, author, and jazz musician who played with Duke Ellington, Art Farmer, Gerry Mulligan, Art Blakey, and Thelonious Monk, among others.