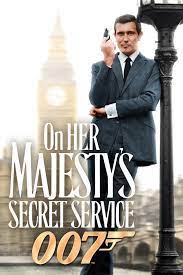 James Bond (George Lazenby) saves a woman on the beach from drowning herself and runs into her again in a casino. She is Contessa Teresa di Vicenzo (Diana Rigg). She invites him to her hotel room but he is attacked by an unidentified assailant who has to be subdued. When Bond returns to his room, he finds Tracy there and she claims to know nothing about the attack. The next morning, he is kidnapped and taken to Marc-Ange Draco, the head of a crime syndicate called Unione Corse. Draco tells him that Tracy is his rebellious daughter and offers Bond a million pounds to marry her. He refuses but will continue romancing her if Draco helps him track down Ernst Stavro Blofeld.
Back in London, M (Bernard Lee) orders Bond to abandon his search for Blofeld and Bond dictates a letter of resignation to Miss Moneypenny (Lois Maxwell) which she changes to a simple request for leave. Bond attends Draco's birthday party in Portugal, where Bond and Tracy begin a romance. Draco sends Bond to a law-firm in Bern, Switzerland. He breaks into the office of Swiss lawyer Gumbold (James Bree) and learns that Blofeld is in correspondence with a genealogist named Sir Hilary Bray (George Baker), trying to obtain the title Count Balthazar de Bleuchamp.
Posing as Bray, Bond meets Blofeld (Telly Savalas), who owns an allergy research institute on top of Piz Gloria Mountain in the Swiss alps. He also meets twelve young women who are Blofeld's Angels of Death, all of them apparently cured of various allergies. Bond meets one patient in her room to seduce her—Ruby Bartlett (Angela Scoular)—and later discovers that the women go into a sleep-induced hypnotic trance in which Blofeld can brainwash them into spreading bacteriological agents throughout the world.
Bond tries to trick Blofeld into leaving Switzerland so MI-6 can arrest him, but Bond is captured by Blofeld's henchwoman Irma Bunt (Ilse Steppat). Bond escapes by skiing down the mountain, pursued by Blofeld's men. Tracy runs into Bond in Lauterbrunnen and they escape after a car-chase. A blizzard sends them into a barn, where he proposes marriage and she accepts. They continue their escape by skis the next day, when Blofeld sets off an avalanche and buries Bond. He then absconds with Tracy.
Back in London, M informs Bond that Blofeld intends to hold the world to ransom by threatening to destroy its agriculture with the brainwashed women. He demands amnesty for all crimes and the title of Count de Bleuchamp. M tells Bond that the ransom will be paid and he must not try to rescue Tracy. But Bond enlists the help of Draco to attack Blofeld's headquarters. The facility is destroyed but Blofeld escapes. There is a furious bobsleigh chase until Blofeld is ensnared by tree branches. Bond and Tracy marry in Portugal, then drive off in the Aston Martin DBS, but Tracy is killed in a drive-by attack.
The film, his first, was directed by Peter R. Hunt, who had been film-editor and second unit director on other Bond films, and was produced by Albert Broccoli and Harry Saltzman, the idea being to create a more realistic Bond film that followed closely the Ian Fleming book on which it was based, for a change. In fact, Hunt always carried a copy of Fleming's novel on the set. Sean Connery had quit the series and the producers chose George Lazenby, a model with no acting credits, to play Bond. He was chosen because he looked good in a Fry's Cocoa advertisement. Having gotten hold of a Saville Row suit made for Sean Connery and a nice Rolex watch, Lazenby talked his way into a meeting with Broccoli, Saltzman and director Hunt and proceeded to snow them with imaginary acting credits. Then he fessed up. Hunt told him, "You just fooled two of the most ruthless bastards in the business. You are an actor."
Timothy Dalton was one of those considered for Bond at the time but thought himself too young for the role. Eon Pictures had planned to use Roger Moore in The Man with the Golden Gun next, but there was political unrest in Cambodia where it was to be filmed, and Moore had signed up for another season of The Saint, so they went in another direction. Swiss Olympic athletes were used for the skiing scenes, though it was the mildest winter in Switzerland in forty years and they had to truck in snow. John Barry's music was considered some of the best in the series. Most reviewers were critical of Lazenby or the film or both and the film did not perform as well as previous Bond films—it was considered a flop because it only made 87 million dollars—but later the public warmed to it and it is now considered one of the best, most heartfelt, and least silly, Bond films. Diana Rigg is a class act, but it's okay to miss Sean Connery.
George Lazenby was not treated well on the set. He was supposed to star next in Diamonds are Forever, but he quit and Connery came back. Lazenby later appeared in The Return of the Man from UNCLE, in which he played a British spy called J.B. He was also supposed to appear in a movie with Bruce Lee, but Lee died and Lazenby's career ended. The motto of the Bond family crest  says "Orbis non Sufficit," which means The World is Not Enough. Diana Rigg and Honor Blackman became Bond Girls after starring in The Avengers, but Joanna Lumley was a Bond Girl first. Lazenby came to tears at Tracy Bond's death scene and convinced the director to keep the scene as it was, the only time Bond wept until Skyfall in 2012.