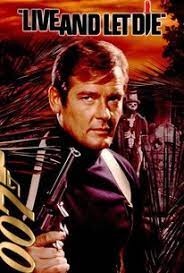 Three MI-6 agents have been killed in 24 hours near the United Nations headquarters in New York City, in New Orleans, and in a small Caribbean Island nation called San Monique. James Bond (Roger Moore) is sent to New York to investigate possible links to Doctor Kananga (Yaphet Kotto), dictator of San Monique, who is in New York visiting the U.N. Bond's driver is killed by Kananga's man Whisper (Earl Jolly Brown) and Bond nearly dies in the car-crash. Noticing the license number of Whisper's car, Bond is led to Harlem, where he meets Mister Big (also Yaphet Kotto), restauranteur and mob boss. Bond meets Solitaire (Jane Seymour), a beautiful tarot-reader who can see the future and serves the superstitious Mister Big.
The gang attempts to have Bond killed again but Bond escapes with the help of CIA agent Harry Strutter (Lon Satton). Bond flies to San Monique, where he meets local rookie CIA agent Rosie Carver (Gloria Hendry). They meet Bond's ally Quarrel Jr. (Roy Stewart), the son of the agent who helped him defeat Dr. No. They are taken by boat to Solitaire's home. Bond suspects Rosie is a double agent and Kananga kills her. Bond uses a stacked tarot deck to convince Solitaire that she is destined to love Bond. After Bond seduces her, she loses her psychic powers with her virginity. Fearing that Kananga will now kill her, she agrees to help Bond.
Bond and Solitaire fly to New Orleans, where Bond is captured by Mr. Big, who reveals himself as Kananga. He has been using voodoo to control the populace of San Monique so he can grow opium poppies there. His plan is to distribute heroin free through his restaurants, bankrupting rival dealers. Having found out about Solitaire's loss of power, Kananga turns Solitaire over to Baron Samedi (Geoffrey Holder) to be sacrificed in a voodoo ceremony, and Bond is sent to a crocodile farm in the American South with Tee Hee (Julius W. Harris), the one-armed thug, and Adam (Tommy Lane), the dapper assassin. Bond escapes the crocodiles and flees in a speedboat in a long, complicated chase, attracting the attention of Sheriff J.W. Pepper (Clifton James) and the Louisiana State Police. Adam is killed in one of the many boat crashes.
Bond returns to San Monique to blow up Kananga's poppy fields. He rescues Solitaire from the voodoo sacrifice and tosses Baron Samedi into a coffin filled with poisonous snakes. Kananga captures Bond and Solitaire and tries to lower them into a shark tank, but Bond frees both of them and forces Kananga to swallow a compressed gas pellet that makes his body inflate and explode. Felix Leiter puts Bond and Solitaire on a train. Tee Hee sneaks aboard to kill them, but Bond cuts the wires of his prosthetic arm and ejects him from the train. In the end, Baron Samedi is riding on the front of the train and we hear Geoffrey Holder's evil laugh.
The film—first of seven to star Roger Moore—was directed by Guy Hamilton, produced by Albert Broccoli and Harry Saltzman, and written by Tom Mankiewicz based on Ian Fleming's 1954 novel. It was produced at the height of the Blaxpoitation film craze and tried to emulate them with their abundant clichés—Harlem drug lords, voodoo, pimpmobiles. Gloria Hendry played the first black Bond Girl, but she was one of the pretty, childlike, useless Bond Girls and it was not a triumph. As soon as she is dead, Bond moves on to the cool and statuesque Jane Seymour. Roger Moore may well be the whitest man in the world and the whole thing now smacks of racism and is rather embarrassing. Easily the best things about the movie are the theme song by Paul McCartney and Wings, the epic boat-chase--somewhat spoiled by the cracker Southern Cop—and Geoffrey Holder's creepy charm.
The production discovered a crocodile farm run by a Ross Kananga in Ocho Rios, Jamaica, which became a scene in the movie. Kananga suggested that Bond escape by running over the heads of submerged crocodiles, and performed the stunt himself. Unfortunately, he kept falling in the water and had to fight off his crocodiles. He received 60,000 dollars, 93 stitches, and a Bond villain named after him. The whole cast was intimidated by the snakes. The snake-wrangler grabbed one that was going after Jane Seymour, and Geoffrey Holder reportedly only let himself be thrown into a coffin full of them because Princess Alexandra was visiting the set and he didn't want to look cowardly in front of royalty. Destroyed were 14 cars, 21 speedboats, 8 planes, and a double-decker bus.
The film was not made in Haiti because Papa Doc Duvalier was in charge there, but gangs in Harlem forced the production to pay protection money to let them film there. J.W. Pepper was a parody of the Brits' idea of a redneck American cop but was so popular he was brought back later to ruin another movie. The sex-scenes between Roger Moore and Gloria Hendry were cut out of the film in South Africa. Salvador Dali was hired to make surreal tarot cards but wanted too much money. But he made them on his own later and released them in 1984. McCartney's theme song was nominated for an Oscar but lost to The Way We Were. Reviews called Roger Moore suave and likable but compared him unfavorably to Sean Connery. They called the villains unremarkable and the movie vulgar and cartoonish, but of course it made a ton of money.