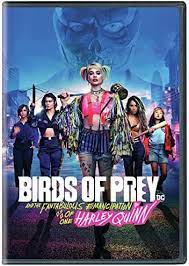 Harley Quinn first appeared in Batman Adventures Vol. 1 #12 (Sept. 1993). Her real name was Harleen Frances Quinzel. She was a brilliant Arkham Asylum psychiatrist who fell in love with the Joker and became the kind of villain he would like to partner with, even though he tossed her into a vat of chemicals that bleached her skin white and eventually dumped her. She paired somewhat more successfully with Power Girl, Poison Ivy, and Catwoman, and was a serious thorn in the side of Batman.
In the 2020 film, it is four years after the Suicide Squad defeated Enchantress. The Joker breaks up with Harley Quinn (Margot Robbie) and throws her out on the streets of Gotham. She consoles herself by cutting her hair, adopting a hyena named Bruce Wayne, and going out for roller derby, a sport made for her.
She gets drunk in a nightclub owned by racketeer Roman Sionis (Ewan McGregor) and cripples his driver for insulting her. She meets Burlesque singer Dinah Lance (Jurnee Smollett-Bell), who is the Black Canary, a metahuman vigilante who can scream hypersonically as a weapon, who rescues Harley from an attempted abduction. Impressed, Sionis hires Dinah as his new driver. Harley blows up a chemical plant to announce her breakup with Joker. Police detective Renee Montoya (Rosie Perez) investigates mob killings by crossbow, and finding Harley's necklace at the explosion site, realizes that Harley is in serious danger without the Joker's protection.
Sionis sends Dinah and sadistic henchman Victor Zsasz (Chris Messina) to retrieve a diamond necklace which happens to bear the account numbers of the late Bertinelli Crime Family. A young pickpocket named Cassandra Cain (Ella Jay Basco) steals the diamond and swallows it when she is arrested. Harley is captured by Sionis's men and ordered to recover the diamond, but Harley frees Cassandra explosively and they escape. They bond while hiding out.
The crossbow killer is Helena Bertinelli (Mary Elizabeth Winstead), who has survived her family's massacre and is out for revenge. Harley calls Sionis and offers to turn over Cassandra in exchange for his protection. They will meet at an abandoned amusement park. Detective Montoya confronts Harley but is thrown out a window. Zsasz tranquilizes Harley but is killed by Helena because he was the last of her family's killers. Sionis, as Black Mask, arrives with a small army and the women repel the attack in the Fun House. Cassandra is captured and Dinah defeats the mobsters with her hypersonic screams. Harley pursues Sionis on roller skates. There is a confrontation at a pier and Sionis is killed by a grenade. Montoya quits the Gotham City Police Force. The women form a vigilante team called Birds of Prey.
Jared Leto appears as the joker, mostly through special effects. Margo Robbie was the producer, and the film was directed by Cathy Yan as a kind of combination of female empowerment and dark humor. It received positive reviews for its great visual style and direction, and for Margot Robbie's acting, but criticized for its screenplay. It did not break even at the box office. Funny, a female dominated comics movie that didn't make money. It was called chaotic, richly hued, inventive, and gleefully violent. The official title is Birds of Prey: And the Fantabulous Emancipation of one Harley Quinn. Jurnee Smollett does her own singing. Theoretically, there will be a trilogy of Harley Quinn movies: Suicide Squad, Birds of Prey, and Gotham City Sirens. Each Bird of Prey has a different fighting style. Harley uses gymnastics, Huntress uses shoulder throws, Black Canary kicks, and Renee Montoya uses her fists. Lady Gaga was offered a role but turned it down. The movie is a hoot—totally bonkers and a dizzying feast for the eyes.