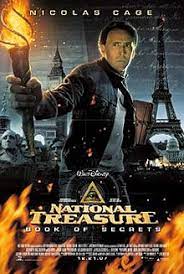 Five days following the end of the U.S. Civil War, John Wilkes Booth (Christian Camargo) and Michael O'Laughlan (Brent Brisco) ask Thomas Gates (Joel Gretsch) to decode a message copied into Booth's diary. He recognizes the message as a Playfair Cipher and goes to work translating it as John Wilkes Booth heads off to assassinate President Lincoln. Solving the puzzle, Thomas sees that those who hired him were working for the Confederacy and rips out the pages to burn them. O'Laughlan shoots Thomas and flees with part of the translation. Thomas Gates, as he dies, tells his son Charles (Billy Unger) the keyword for the cypher.
Some 140 years later, their descendant Benjamin Franklin Gates (Nicholas Cage), the famous treasure-hunter, tells the story at a Civilian Heroes conference. Black market dealer Mitch Wilkinson (Ed Harris) has the page fragment, with Thomas Gates' name next to Mary Surratt and Doctor Samuel Mudd. The public believes that Thomas helped to kill Lincoln, so Ben and his father Patrick (Jon Voight) set out to clear his name. Using spectral imaging, Ben finds traces of the cypher on the page. Solving this, he is directed toward the smaller Statue of Liberty in Paris. At the site, Ben and his friend Riley Poole (Justin Bartha) discover an engraving that refers to the Resolute Desks.
They head for London with Ben's estranged girlfriend Doctor Abigail Chase (Diane Kruger). Ben and Abigail peek at the Resolute Desk in Buckingham Palace and take a pre-Columbian carved plank from the desk drawer. Mitch tracks the pair and manages to steal it from them, though Ben photographs it first. Back in the U.S., Patrick asks his wife and Ben's mother, archaeologist Doctor Emily Appleton (Hellen Mirren) for help. She says that some of the glyphs on the plank are incomplete. Ben and Abigail convince Abigail's new boyfriend, White House Curator Connor (Ty Burrell) to let them see the Resolute Desk in the Oval Office. Ben discovers that a plank has been replaced by an altered Presidential Seal. Riley says this is the symbol of a shared diary written by Presidents and contains secret statements about such topics as Watergate, Area 51, and the JFK assassination.
Ben crashes the President's birthday party at Mount Vernon and convinces the President (Bruce Greenwood) to explore a secret tunnel with him. A secret sliding door separates the President from his security team and Ben asks him about the Book of Secrets. The President warns him that his actions will be taken as kidnapping and tells him the book is in the Library of Congress. Pursued by the FBI, Ben, Abigail, and Riley manage to look at the book. They find a photograph of the missing plank and a word or two by Calvin Coolidge, who found the plank in 1924, transcribed it, had it destroyed, and commissioned sculptor Gutzon Borglum to carve something significant into Mount Rushmore.
They head there, where they meet Mitch and Emily. Mitch kidnapped Emily after Ben left. He has already acquired, memorized, and destroyed the final clue and intends to claim the treasure. With his help, they find a cave full of booby-traps and a subterranean chamber containing Cibola, a Native American City of Gold. A dam breaks, the cave is flooded, and Mitch sacrifices himself holding the door open, hoping for posthumous credit for the find. Back on the surface, the President prevents Ben from being arrested. Ben gives credit to Mitch, gets back in good graces with Abigail, and clears his ancestor's name.
The film was directed by Jon Turteltaub, produced by Jerry Bruckheimer, and distributed by Disney. It received mixed reviews, accused of being too similar to the first film, but it was a box-office success. It was filmed largely on location, including Mount Vernon and Mount Rushmore. Negative reviews called it improbable, but audiences didn't seem to care. There were protests that the British government did not support the Confederacy, as suggested, in any way. Cage and Jon Voight were nominated for Razzies but lost to Eddie Murphy. It was nominated for Best Movie at the 2008 MTV Awards but lost to Transformers. A number of details regarding the Confederacy and the Resolute Desk were anachronistic and could not be true. Though many involved were ready to produce a third movie, it did not happen, but there may be a TV series on Disney+.
Filming at Mount Rushmore was about to displace a local high school's prom. Disney paid for the prom to be held elsewhere and gave scholarships to the valedictorians. In Riley Poole's book is an autopsy report for Marilyn Monroe. Handwriting experts duplicated the handwriting of Lincoln, Queen Victoria, and Calvin Coolidge. Dame Helen Mirren was not able to meet Queen Elizabeth, whom she had played in The Queen (2006), because she was in South Dakota making this film. Complex and accurate reproductions of the Resolute Desks were constructed. The desks had been built from oak timbers of the British Arctic Exploration Ship HMS Resolute, which had been abandoned in the Arctic while searching for the lost expedition of John Franklin. The one in the White House was a gift from Queen Victoria.