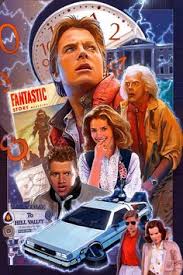 In 1985, Marty McFly (Michael J. Fox) is a teenager in California. His nerdy father George (Crispin Glover) is bullied by his boss Biff Tanner (Thomas F. Wilson), his mother Lorraine (Lea Thompson) is a depressed alcoholic, and his older siblings are social failures. His band has just been rejected for a contest and he tells his girlfriend Jennifer Parker (Claudia Wells) he is afraid he will turn out like his parents.
That night, Marty meets up with his friend "Doc" Brown (Christopher Lloyd), a highly eccentric scientist, in a mall parking lot. Doc has built a time-machine in a DeLorean. Unfortunately, he swindled a bunch of Libyan terrorists out of the plutonium he needs to power it, and they turn up just as Doc is set to go back in Time to November 5, 1955, and they shoot Doc down. Marty takes off in the DeLorean, but the moment it reaches 88 mph, it vanishes into Time.
Back in 1955, Marty has no source of plutonian with which to return. He meets his father, just a teenager, and finds Biff already bullying him. Marty is struck by a car saving his father from an accident and Lorraine attends to him. He finds his mother falling in love with him instead of his father. He tracks down Doc Brown and convinces him he is from the future, and Doc suggests the only power source that can power the time-machine is a lightning bolt. Marty knows that a lightning bolt will strike the Town Clock in a few days. As Marty's older siblings begin to fade from a photo he has, he realizes his future existence is unravelling. He struggles to get his mother and father together before he vanishes.
He hatches a plan to insult his mother and have his father rescue her, but Biff locks Marty in the trunk of the school dance hired band—Marvin Berry and the Starlighters. George arrives to find Biff insulting Lorraine instead of Marty and he knocks Biff out and takes Lorraine to the dance. The band frees Marty but the lead guitarist injures his hand and Marty has to play guitar with Marvin Berry so George and Lorraine will kiss as scheduled by Time. He has a great time imitating all the great guitarists of the future, to the astonishment of the crowd, and parodying Chuck Berry's style and duck-walk across the stage. Marvin Berry calls his cousin Chuck and tells him about the great sound he discovered. Then, Marty heads off to meet Doc at the clock tower.
Doc destroys a warning about the future from Marty, worried about affecting Time. Marty re-calibrates the DeLorean to return ten minutes early so he can save Doc from being shot. The lightning strikes, Marty returns to 1985, but the car breaks down and he has to run to the parking lot, where he sees Doc shot down. But doc gets up, having read the note and putting on a bullet-proof vest just in case. He brings Marty home and takes off for 2015. Marty wakes up in the morning to find his father is now a confident and successful science-fiction writer, his siblings and mother are happy, and Biff is his father's obsequious valet. Marty reunites with Jennifer, but Doc suddenly appears and tells Marty that they must journey to the future to save his children.
The film was directed by Robert Zemeckis, written by him and Bob Gale. Their scripts were rejected 40 times by the studio. The story was praised by critics and loved by audiences and has only grown more successful with Time. It won an Oscar, a Hugo, and Saturn Awards. The song "The Power of Love" by Huey Lewis (who has a cameo) and the News was a global hit. It is now considered one of the greatest movies of all time. Its two sequels were also hits, and it spawned an animated TV series, video games, comic books, toys, and theme-park rides. It was a stage musical in 2020. The film took inspiration from Robert Silverberg, Robert Heinlein, and the writers' own childhoods.
The film was considered too tame at first, in the age of Animal House, Porky's, and Fast Times at Ridgemont High. But Disney studios thought the relationship between Marty and his mother was problematic. Zemeckis finally turned to Steven Spielberg and Amblin Entertainment for support. Michael J. Fox was taping Family Ties at the same time and was always exhausted. The music was by Alan Silvestri, properly heroic despite the small-town sets. Twenty clock-wranglers were needed to set the roomful of clocks in the opening scene. In a speech, Ronald Reagan once said, "Where we're going, we don't need roads." John Delorean thanked Zemeckis for the suddenly booming success of the DeLorean. They had a second business building aftermarket Flux Capacitors for the cars.
Michael J. Fox was in a remote jungle in Bhutan, when a bunch of Buddhist Monks called out to him, "Marty McFly!" Lea Thompson was told by an agent as an aspiring actress that her future consisted of Virgins, Whores, and Mothers. She loved the Back to the Future series because she got to play all three in one character. In his guitar solo, Marty copies Pete Townshend, AC/DC. Chuck Berry, Jimi Hendrix, and Eddie Van Halen. The prominent appearance of the Texaco gas station is interesting, because Christopher Lloyd's maternal grandfather was a founder of Texaco. When Marty first arrives in 1955, he crashes into the farm of Old Man Peabody, who has a son named Sherman. Peabody's Impossible History on the Bullwinkle Show was a major inspiration for the movie.