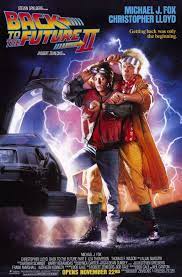 On October 26, 1985, Doctor Emmett Brown (Christopher Lloyd) arrives in his DeLorean time machine and talks Marty McFly (Michael J. Fox) and his girlfriend Jennifer Parker (Elizabeth Shue) into coming with him into the future to save their future children. Biff Tanner (Thomas F. Wilson) watches the machine take off. They arrive on October 21, 2015. Doc puts Jennifer to sleep because she should not know too much about the future. He has Marty pose as his own son and refuse to participate in a robbery planned by Biff's grandson Griff (also Thomas F. Wilson).
Still, Griff goads Marty into a fight and there is a hoverboard chase. Griff and his gang are arrested, which save's Marty's future children. Marty buys an almanac, planning to bet on future winners when he gets back home. Doc finds it and lectures Marty about profiting from time travel, but they are interrupted by the police, who have found Jennifer and are bringing her home. The now elderly Biff picks up the almanac.
Jennifer wakes up in her 2015 home and hides from the McFly family. She overhears about Marty being in a car accident, and she overhears Marty being lured into a shady business deal with his co-worker Douglas Needles (Flea). Jennifer faints when she runs into herself. Biff steals the time machine, goes back, and gives the almanac to his younger self, with instructions. The travellers return to 1985 and leave Jennifer on the porch.
But 1985 has changed. Biff has made a fortune betting on sports and is rich enough to own the town. He has killed Marty's father George (Jeffrey Weissman) and forced Marty's mother Lorraine (Lea Thompson) to marry him. Doc is in a mental hospital. They figure out what happened and that Biff received the almanac on November 12, 1955. Biff tries to kill Marty, but Marty escapes with Doc to 1955.
Marty follows Biff and goes to the high school dance, careful not to run into himself there, and finally gets the almanac away from Biff. He burns the book, nullifying the changes to the future. But before he can get into the DeLorean, it is struck by lightning and vanishes. A Western Union courier appears and delivers a 70-year-old letter to Marty, from Doc, who explains that the lightning strike threw him back to 1885. Marty races into town, and finds the 1955 Doc, who faints when he sees him.
Like Part I, this film was directed by Robert Zemeckis from a screenplay by Bob Gale. It was filmed back-to-back with Part III. The ground-breaking special effects were by Industrial Light and Magic. The new VistaGlide motion control camera system allowed actors to play multiple characters simultaneously on screen though the camera was moving. The film was released to mixed reviews, but it has since become a highly regarded part of the trilogy. Zemeckis was usually exhausted from filming two movies at once. The film won a Saturn and a BAFTA and was nominated for a visual-effects Oscar.
Crispin Glover would not accept the money he was offered and they had to kill off his character, but there were scenes with film of him already made and actors dressed up to look like him. He sued, but it was settled out of court. Marty's girlfriend was put to sleep for most of the movie because she was taken to the future at the end of the previous movie and in the unexpected sequel they didn't know what to do with her. The last scene of the first movie was played at the beginning of the second with Elizabeth Shue, who had taken over the role. Elijah Wood had a small part in the film, his first movie role.
Zemeckis did not want to predict the future, but actually did so by mistake, with newsgathering drones, animated billboards, flatscreen TV, wearable technology, tablet computers, and fingerprint screening. Self-tying shoes were invented because somebody saw them in the movie and invented the technology. A hoax about the hoverboard being available was widely believed. Michael J. Fox was watching Part I on VHS and the words To Be Continued appeared at the end, so he phoned his agent to make sure he would be in Part II. Carl Sagan praised the use of the timeline in the film. Among the shows appearing on TV in the movie are Family Ties and Taxi. A Spinner from Blade Runner and the StarCar from The Last Starfighter can be seen in 2015.