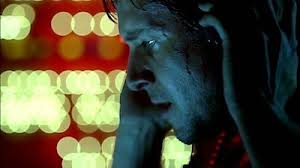 The Connors realize they have to leave their current house. Talking with Kacy (Busy Phillips), who has had her baby, Sarah (Lena Headey) learns that Riley (Leven Rambin) has been found dumped in the river. She tells John (Thomas Dekker) and they think Cameron did it. She says she did not, but John does not believe her. But they pretend to Riley's foster father that she is still alive, Cameron imitating her voice on the phone in a rather creepy scene.
Jesse (Stephany Jacobsen) is harassed by a Navy officer and Derek manages to stop her from creating a full-on brawl. He tells her that Riley has been found and that John thinks Cameron killed her. In a flashforward to 2027, Jesse is on board the USS Jimmy Carter, as a kind of plug for the movie Terminator Salvation. A reprogrammed T-888 (Chad Coleman) says John Connor wants them to pick up a package from three Terminators.
Savannah (MacKenzie Smith) wants to play hide-and-seek with her mother Catherine (Shirley Manson) who is not interested, so John Henry (Garret Dillahunt) plays with her. Catherine and Ellison (Richard T. Jones) ask him where she is and John Henry gives them a riddle, which Ellison solves. But he worries about John Henry's undeveloped ethics.
It is speculated that Jesse started the fight with the sailors to explain the wounds that Riley gave her. At the morgue, John notices defensive wounds on Riley's body. There would be no such wounds if Cameron killed her. Queeg, the T-888 on the Jimmy Carter, is clearly named for Captain Queeg of the Caine Mutiny (1954).