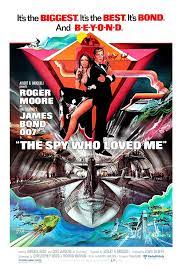 British and Soviet ballistic-missile-bearing submarines have vanished and James Bond (Roger Moore) is called in to investigate. On his way to the briefing, he is ambushed by a squad of Soviet agents in Austria. He kills one in a downhill ski-chase and evades the rest. He is sent to Egypt because plans to an advanced submarine-tracking system are being offered there. Bond encounters Major Anya Amasova (Barbara Bach), who is the KGB's agent Triple-X and is his competition for the microfilmed plans. They travel together and run into Jaws (Richard Kiel), a seven-foot-tall assassin with razor-sharp steel teeth. Britain and Russia agree to a truce and Bond and Anya reluctantly join forces. Together, they find evidence concerning a shipping tycoon and scientist named Karl Stromberg (Curt Jurgens).
On a train to Stromberg's base in Sardinia, Bond saves Anya from Jaws and they begin to—uh—bond. Posing as a marine biologist and his wife, they visit Stromberg's base and learn that he had launched a mysterious supertanker called the Liparus nine months before. Leaving, they are chased by a henchman on a motorcycle with a rocket-propelled sidecar, Jaws in a car, and Stromberg's pilot Naomi (Caroline Munro) in a helicopter. The couple escapes when Bond's Lotus Esprit sportscar converts into a submarine. Jaws survives a car-crash—he survives everything—but Naomi is killed when Bond hits the helicopter with a rocket. They dive to study Stromberg's underwater base, Atlantis, and are pursued by Stromberg's minisub army. Bond learns that the Liparus has never put into port, and Anya learns that Bond killed her lover Sergei (Michael Millington). She vows to kill him when the mission is over.
Bond and Anya board an American submarine, USS Wayne, to study the Liparus from below, but the submarine is seized and taken aboard the ship, which is basically a floating submarine dock. Stromberg's plan is to launch nuclear missiles from both the British and the Soviet submarines, obliterating Moscow and New York and triggering a nuclear war. Stromberg would survive under the sea and begin a new civilisation. He heads for Atlantis with Anya his captive, but Bond breaks free and rescues the two submarine crews. He tricks the submarines into firing their missiles at each other, destroying both and killing Stromberg's crew. The submarine crews escape the ship on the American submarine.
The Pentagon wants to destroy Atlantis, but Bond argues for rescuing Anya first. He finds Anya and kills Stromberg but encounters Jaws. Bond manages to dump Jaws in a shark tank, but Jaws kills the shark and escapes, swimming out to sea to the applause of the audience. Bond and Anya leave in an escape pod and Atlantis is sunk. Anya decides not to kill Bond. The Royal Navy picks them up.
The film was directed by Lewis Gilbert from a screenplay by Christopher Wood,  Richard Maibaum, and Tom Mankiewicz, based allegedly on Ian Fleming's 1962 novel, but about all they took was the title, which Eon Productions had the rights to. It was very well received by critics and audiences and is generally considered the best of the Roger Moore Bond movies. The music by Marvin Hamlisch was praised. The film was nominated for three Oscars. Production was delayed by the departure of Harry Saltzman, producer at Eon Productions. If Eon did not produce a Bond film every 18 months, they might lose the Bond rights to United Artists.
Producer Albert Broccoli declined to let Steven Spielberg direct. There were problems getting the script written and nine people tried to do it. Broccoli decided to use a KGB agent for Bond's love-interest after showing the Russians a Bond film, which they enjoyed but thought too anti-Russian. Catherine Deneuve wanted to play Anya but demanded a quarter million dollars for it. David Prowse (Chewbacca) was considered for Jaws. To accommodate the interior of Stromberg's supertanker, a whole new soundstage was built at Pinewood Studios, called the 007 Stage. The song Nobody Does It Better, by Marvin Hamlisch and Carole Bayer Sager, sung by Carly Simon, was very popular and was nominated for an Oscar but lost to You Light Up My Life. At  a special screening in London, attended by Prince Charles and other Royals, the Union Jack parachute scene received a standing ovation.
The relative dearth of slapstick humour and the intelligence of the female lead were refreshing, but not long-lived. When the scaffolding collapsed on Jaws, Roger Moore only mouthed the line, "Egyptian builders!" because an Egyptian government rep was there to make sure Egypt was not put in a negative light. The line was dubbed in later and Egyptian audiences laughed loudly. The supertanker set was so huge that cinematographer Claude Renoir could not see the end with his failing eyesight, so Stanley Kubrick came in secretly to light the set. Lotus employee Roger Becker, because the Lotus Esprit hugged the road so well, had to drive it recklessly to make it skid and throw up gravel dramatically, and he was made official driver for the film. Richard Kiel could only wear the steel teeth for a few minutes because of the pain. The chains he bit through were made of licorice.
Bond movies often introduce cutting-edge technology to the world, and in this case it was the jet-ski. This was the last movie that Elvis Presley ever saw. On the big screen, one can see that Karl Stromberg has webbed hands, as in the novel. An entire refrigerated truck full of food was left unplugged and all the food perished. The cast and crew hated the Egyptian rations, so Albert  Broccoli took a jeep into town with a few assistants to buy up pots and pans and various foodstuffs and cooked up one of his Italian mother's favorite recipes for everyone. Stuntman Rick Sylvester could have been killed when a dropped ski hit the opening union-jack parachute in the big jump. You can see it on the screen.
Victor Tourjansky played the man who wonders if he's hallucinating when the Lotus Esprit comes out of the sea. He was also in Moonraker, where he saw a wheeled gondola appear out of a Venice canal, and in For your Eyes Only, when Bond skies off a snow-covered roof in Innsbruck and lands on his lunch. Until Anya Amasova, Americans believed that Russian women were ugly and masculine. Johnny Carson complained that the movie ruined half his jokes. Now, Russian models have their own porn sub-genre. On the death of Sir Roger Moore in 2017, this movie and For Your Eyes Only, his favorites, were re-released. It was also one of Albert Broccoli's favourites, along with From Russia with Love and Goldfinger.