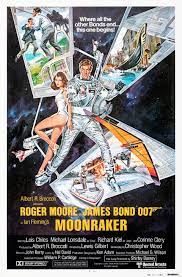 The Moonraker space shuttle, on loan from Drax Industries to the U.K., is hijacked in mid-air while being flown on a shuttle-carrier aircraft. The aircraft is destroyed in the process but no sign of the shuttle itself turns up. M (Bernard Lee) of MI-6 assigns James Bond (Roger Moore) to investigate. On the flight to the U.K., Bond is tossed out of a plane with the mercenary Jaws (Richard Kiel), Bond steals a parachute from the pilot and Jaws lands on a trapeze net in a circus tent. Bond meets with Hugo Drax (Michael Lonsdale) at Drax Industries and his henchman Chang (Toshiro Suga). He also meets astronaut Doctor Holly Goodhead (Lois Chiles). Bond survives an assassination attempt in a centrifuge chambre. Drax's personal pilot, Corinne Dufour (Corinne Cléry), helps Bond find blueprints for a glass vial made in Venice. Drax sics his attack dogs on her.
In Venice, Bond encounters Goodhead and finds her snooping around near a glass factory, and then he is pursued through the canals by Drax's henchmen. That night, he finds a secret biological lab at the glass factory and learns that the vials are designed to hold a nerve-gas deadly to humans but harmless to plants and animals. Chang attacks Bond but Bond throws him through the stained-glass clockface of Saint Mark's clocktower to his death. He finds evidence that Drax is moving to Rio de Janeiro. He also discovers that Goodhead is a CIA agent. He turns in the vial of poison to Q for analysis and heads for Rio de Janeiro, supposedly on leave.
He survives attacks by Jaws at Carnaval in Rio and on the Sugarloaf Mountain cable car. Jaws crashes in the cable car and is rescued by a little cutie named Dolly (Blanche Ravalec). Cue the love-theme from Tchaikovsky's Romeo and Juliet. Drax captures Goodhead but Bond escapes, learning that the toxin comes from a rare orchid in the Amazon Forest. Travelling on the Amazon river, Bond is attacked by Drax's forces, but manages to locate his base before being captured by Jaws.
Bond and Goodhead are locked in the tunnel beneath the launchpad to be killed by the shuttle exhaust, but they escape and pose as astronauts to gain access to Moonraker 6, which docks with Drax's space station. They disable the radar-jamming device and the station becomes visible on Earth. A platoon of Marines is sent in U.S. shuttles. Jaws captures Bond and Goodhead. Drax boasts that he will poison the population of Earth and his genetically perfect young men and women will repopulate the planet. Bond gets Drax to admit that neither Jaws nor his diminutive beloved Dolly are perfect enough to live. Jaws attacks Drax's guard and a laser-battle takes place. The station is destroyed and Drax is ejected into space by Bond. Jaws and Dolly eject in an escape pod and are picked up by the Marines. Bond and Goodhead eject in Moonraker 5 and Bond's superiors see him and Goodhead making love in zero gravity.
The film was directed by Lewis Gilbert, based on a story by Ian Fleming that was written to be a movie script. It was filmed because Star Wars had taken the Earth by storm and Eon Productions wanted a piece of that. It cost 34 million dollars and received mixed reviews at best, though the visuals were highly praised, loved by the audience, and made 210 million bucks. The original story was pretty much jettisoned. Tom Mankiewicz wrote a script, some of which was used, and other parts ended up in Octopussy and A View to a Kill. Steven Spielberg offered to direct but Albert Broccoli turned him down. One wonders. Jaws was a figure of fun instead of a monster and became a hero, largely because many children wanted it that way. The producers were not sure the love-story between the seven-foot Jaws and the five-foot Dolly would work, but it turned out that Richard Kiel's real wife was the same diminutive size.
One of Drax's perfect humans was played by Melinda Maxwell, Lois Maxwell's daughter. The title song was sung by Shirley Bassey, her third in a Bond film, and the whole was scored by John Barry. His slow, rich, string passages inspired his later film scores for Out of Africa and Somewhere in Time. Critics bemoaned the absurdity of the plot but loved the spectacular and breathtaking action scenes. Gene Siskel hated the lowbrow humour and the constant product placement. The film was nominated for three Saturns and an Oscar for special effects. Many viewers were sure that Dolly wore braces on her teeth, but that appears to be a false memory.
The entire skydiving sequence was shot in free-fall and is quite astonishing to see. Because only a few seconds of film could be shot at a time, the sequence required 88 jumps and five weeks to film, for two minutes of footage before the credits.
This film cost as much as the first eight Bond films together. It was Bernard Lee's last appearance as M because he died while For Your Eyes Only was in pre-production. It was filmed in four studios, in seven countries, on three continents. The fight in the glass museum destroyed 600 fake copies of priceless antique glass artifacts. Drax is based on the Robur the Conqueror character from Jules Verne's Master of the World, the role that Vincent Price played in the movie of that name. The radar-jamming device that Holly Goodhead deactivates is the same prop that Princess Leia tries to fix in The Empire Strikes Back.