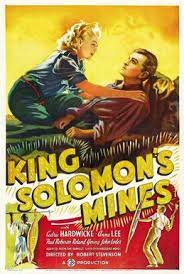 In 1882, dreamer Patsy O'Brien (Arthur Sinclair) and his daughter Kathy (Anna Lee) have lost their fortune in diamond mines in Kimberly, South Africa. They persuade Allan Quartermain (Cedric Hardwicke) to drive them to the coast in his wagon. They encounter two men in bad shape. The native African Umbopa (Paul Robeson) recovers, but Silvestra Getto (Arthur Goullet) dies after telling Quartermain that he has found the way to King Solomon's Mines. Patsy sneaks off with the map and Kathy cannot convince Quartermain to go after him. So, they join up with Quartermain's clients, Sir Henry Curtis (John Loder) and Commander John Good (Roland Young), who are after big game.
Kathy steals Quartermain's wagon to go after her father. The others catch up with her and reluctantly they accompany her across the desert and the mountains, guided by Umbopa. Curtis and Kathy fall in love. They are surrounded by unfriendly natives and are taken to the Kraal of Chief Twala. They see the entrance to the mines guarded by the witch doctor Gagool. Umbopa reveals that he is the son of the former chief, dethroned and killed by Twala. The dissidents, led by Infadoos (Ecce Homo Toto) plot an upraising, but they need powerful magic.
Gagool kills several natives. Good notices that there will be a solar eclipse that day. Quartermain predicts the darkening of the sun and Umbopa reveals his true identity. A battle begins and Curtis kills Twala. Kathy slips away and looks for her father in the mine. He has a broken leg and a lot of diamonds. Gagool seals them in, along with Curtis and Good. Umbopa pursues Gagool, who is killed by falling rocks. The new chief gives his friends an escort across the desert.
The earlier, 1919 silent film was written by H. Rider Haggard himself. But the 1937 version, directed by Robert Stevenson, is usually considered the most faithful to the book, though Graham Greene thought otherwise. The 1937 film starred Paul Robeson and he was clearly the most important person in the movie. For some reason, the premiere in Johannesburg was cancelled owing to unforeseen circumstances. The film was thought lost for years and was found in Rank Studio's Pinewood vaults. Some exteriors were shot in Kwazulu-Natal, South Africa, using stand-ins for the main actors. It changed Quatermain's name in the book to Quartermain, and later versions changed it back. Paul Robeson was angry that scenes with the African tribes were re-shot to make them racist and thus more palatable to audiences.