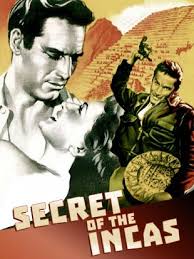 American adventurer Harry Steele (Charlton Heston) is guiding tourists in Cuzco, Peru, but he has hopes of finding an Inca treasure called the Sunburst. He already has an ancient carved stone that gives him the location, but he has no money to travel there. He is also troubled by his criminal associate Ed Morgan (Thomas Mitchell), who is so anxious to get his hands on the item himself that he tries to get Harry killed. Enter a Romanian defector named Elena Antonescu (Nicole Maurey). He helps her travel to Mexico as a steppingstone to America, but he has his own agenda. He steals the plane used by Romanian official Anton Marcu (Leon Askin) trying to capture Elena, and they fly to Machu Picchu.
They run into an archaeological expedition headed by Doctor Stanley Moorehead (Robert Young), who is about to enter the tomb where the Sunburst is supposed to be. Moorehead is becoming fascinated with Elena. As the party sleeps, including the indigenous diggers, Harry enters the tomb and finds the Sunburst in a hollow pillar, pointed out by a shaft of light. Morgan appears and grabs the Sunburst at gunpoint and shoots his way out of the temple, pursued by Harry and some of the locals. Morgan is trapped on a cliff edge. Harry gets the Sunburst and Morgan falls to his death. Harry gives the Sunburst back to the natives. Robert Young's character proposes to Elena, but she goes off with the bad boy.
The film, directed by Jerry Hopper, written by Sydney Roehm and Ranald MacDougall, was made by Paramount because far-flung adventures were popular, but none had been done in Mexico. It was filmed on location at Cuzco and Machu Picchu. The stars and crew spent a month in Peru with 500 indigenous extras. Peruvian singer Yma Sumac sings as Kori-Tica in the film, and her vocal range is incredible. Afterwards, there was a surge in travel to Peru. This was Robert Young's last feature film, as he moved into television soon after and never looked back. The opening music appeared again in the beach party scene of The Big Lebowski.
But none of this is the film's real claim to fame. You may have noticed that the plot seems much like an Indiana Jones movie. But one look at Charlton Heston in his brown leather jacket, Fedora, tan pants, shoulder-bag, and revolver as he creeps about in an ancient tomb reveals that he was the inspiration for Indiana Jones. There is even a scene in the tomb involving a revelatory shaft of light. Costume designer Deborah Nadoolman Landis revealed that the crew of Raiders of the Lost Ark watched Secret of the Incas several times.