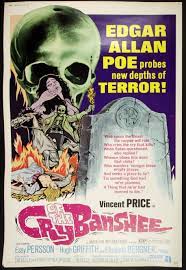 Lord Edward Whitman (Vincent Price) presides over the witch-trial of a young woman. He rules that she is a witch and has her branded, whipped through the streets, and placed in the village stocks. That night, he parties at home while his henchmen scour the countryside for someone who killed a sheep. Two poor teenagers are brought into the hall. The howling of a wolf outside is taken to mean that they are marked by the Devil. Both are killed. Whitman's new wife, Lady Patricia (Essy Persson), calls him a murderer. When Whitman's oldest son, Sean (Stephen Chase) rapes Lady Patricia, Whitman decides to rid the area of all witches, since it must be their fault.
Aided by Sean, Whitman goes hunting. His posse breaks up what appears to be a Black Sabbath. He kills several women and tells the others to scatter into the hills. The leader of the coven, Oona (Elisabeth Bergner) is angry and seeks revenge on Whitman. She summons up a demonic spirit to attack his family. The spirit possesses their loyal servant, Roderick (Patrick Mower), whom daughter Maureen Whitman (Hilary Dwyer) has long been in love with. Roderick begins to kill off members of the family, including son Sean and wife Lady Patricia. Whitman's other son, Harry (Carl Rigg), comes home from Cambridge and, with a priest named Father Tom (Marshall Jones), finds Oona and her coven, busy conjuring up the death of Maureen. Oona and the coven are wiped out. Roderick, who was attacking Maureen, stops and attacks Whitman. Maureen shoots the demonically possessed figure and seems to kill him.
Whitman is exhilarated that the curse is over and leaves the house with his surviving children in a coach. He stops at the cemetery to reassure himself that Roderick is dead but finds the coffin empty. Then he finds Maureen and Harry dead. The driver, Bully Boy (Andrew McCulloch) was killed by Roderick, who is now driving, and takes off for parts unknown with the screaming Whitman trapped in the coach.
The film was directed by Gordon Hessler and written by Tim Kelly and Christopher Wicking, based on a story by Kelly. It was produced by Louis M. Heyward, Samuel Z. Arkoff, James H. Nicholson, and Gordon Hessler. There is no actual banshee in Cry of the Banshee. These are figures from Celtic legend about a ghost whose cry precedes death. The film played at the first Quentin Tarantino Film Festival in 1997, is mentioned in the song Demonoid Phenomenon by Rob Zombie, features opening credits by Python Terry Gilliam, and features a fake poem by Edgar Allan Poe. An attempt was made to make the witches sympathetic but the studio didn't want that. Wicking saw it as a Jacobean Revenge Tragedy but kept quiet about it.
Elisabeth Bergner had not been in an English film in thirty years. The part was a strange one but she carried it off. Price was upset by the studio's heavy hand and almost didn't attend the wrap party, which was also to celebrate his 100th film, and he showed up drunk. When they tried to find a knife to cut the cake, he said, "Take the knife out of my back and use that." But he signed a four-picture contract with AIP. Wilfred Josephs' musical score was not used for the theatre release but was restored for the DVD release because it was more mysterious. Various whippings, rapes, and topless women were trimmed or eliminated, but were restored for the DVD releases. Critics compare it unfavorably to Witchfinder General, about the same subject. There is hardly anyone in it to root for, but it is quite sensational. Price, of course, is chilling.