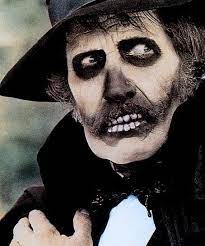 A horror-film actor named Paul Toombes (Vincent Price) plays a skull-faced character called Doctor Death. At a party celebrating his fifth film, he announces his engagement to Ellen Mason (Julie Crosthwait) who gives him an engraved watch as an engagement gift. But later that evening, an adult-filmmaker named Oliver Quayle (Robert Quarry) reveals that Ellen had worked in adult films and had been his lover. Toombes reacts badly. Later, a masked man looking like Doctor Death decapitates Ellen. Toombes comes in later to apologize and is horrified. He is acquitted of the crime, but his career is over as he spends time in a mental hospital. He begins to think he might be guilty after all.
Twelve years later, he is called to London by his screenwriter friend Herbert Flay (Peter Cushing), who has partnered with Quayle for a Doctor Death TV series. On the cruise ship, he runs into a persistent young actress named Elizabeth Peters (Linda Hayden) who steals his watch and follows him to Flay's house. In the spider-infested basement, he discovers Faye Carstairs (Adrienne Corri), Flay's wife, who had been driven mad by disfigurement after a car accident. She had been in Doctor Death movies. Now she treats the spiders as pets. Outside, the young actress from the ship sees a man dressed like Doctor Death, who kills her with a pitchfork. Scotland Yard notes the similarity to a scene in one of the movies and suspects Toombes.
Toombes is unhappy with changes made to the Doctor Death script. He berates his female co-star on set and she is found hanging by her hair, looking like another Doctor Death scene. He is harassed by the family of the girl on the ship, who have found his watch in her effects. They try to blackmail him but they are impaled with a broadsword. Faye, to her horror, discovers the bodies. On the set, the director is killed by a trap intended for Toombes. Later, Toombes is chased by the masked man. Julia Wilson (Natasha Pyne), Quayle's public relations chief, is killed by the masked man, again staged like a Doctor Death scene. Toombes discovers the body and has a psychotic break. He carries her body onto the set and sets the whole studio on fire.
Flay believes that Toombes died in the fire and signs a contract to take his place as Doctor Death. He watches a film of the fire and sees Toombes walk out of the screen, burned but alive. Toombes demands to know why Flay wants to destroy him. Flay screams that he had written the character of Doctor Death for himself, only to see Toombes get the part. He murdered Ellen to frame Toombes and killed Julia because she found a contract stating that Flay would get the role if Toombes died. They fight and the struggle leads to the basement, where Faye stabs Flay in the back and he falls into the spiders. Toombes puts makeup on his now-ruined face to look like Flay and sits down to dinner with Faye, who offers him red herrings.
The film was directed by Jim Clark, written by Ken Levinson and Greg Morrison, based on the novel Devilday by Angus Hall. Basil Rathbone and Boris Karloff had recently died and were shown in scenes pretending to be from Doctor Death. The Pit and the Pendulum, Tales of Terror, The Raven, and Scream and Scream Again all contributed clips. The film did not make much money compared to other Price films, but the reviews were generally positive. This was the last film Price made for AIP—23 films in 14 years. It is Price who sings during the last scene and over the closing credits. The party costume worn by Robert Quayle is from Count Yorga, Vampire, which had been played by Quarry. Peter Cushing, who had often played Van Helsing, is dressed as Dracula for a joke. It's a well put together film, well acted, creepy and dramatic but never ridiculous. It's nice to see Price and Cushing working well together.