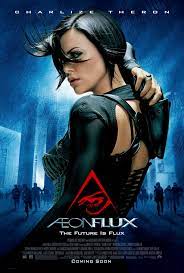 In 2011, a deadly virus killed 99 per cent of the Earth's population. In 2415, the remainder of the human race lives in Bregnia, a walled city-state ruled by a congress of scientists. The population is plagued by nightmares and people have a habit of disappearing. Aeon Flux (Charlize Theron) is a member of the Monicans, a secret rebel organization who communicate through telepathic technology and are led by someone called the Handler (Frances McDormand). Returning from the sabotage of a surveillance station, Aeon comes home to find that her sister Una (Amelia Warner) has been killed as a Monican.
When Aeon is sent to kill the government leader, Trevor Goodchild (Martin Csokas), she discovers that the Monicans are being manipulated by a cabal of council members planning their own overthrow of the government. She begins to question everything and learns that everyone in Bregnia is a clone grown from recycled DNA because the antidote to the virus made the human race infertile. Everyone's troubling dreams come from their previous lives. Aeon learns that she is a clone of the original Trevor's wife Katherine—the first in 400 years.
Una was a successful experiment—a pregnant clone. But Trevor's brother Oren (Johnny Lee Miller) had her killed along with every fertile clone and destroyed Trevor's research. He reveals to Trevor and Aeon that some women are now becoming pregnant without cloning. Oren had them killed as well to maintain the power of the Goodchild family. Aeon goes against Oren and his supporters and convinces the other Monicans to do the same.
She heads out to destroy the Relical, the dirigible that contains the DNA used in the cloning. She meets the Keeper (Pete Postlethwaite), who monitors it all. It was he who kept Katherine's DNA despite orders to destroy it. The dirigible crashes into the city wall and the people discover that the world outside is not a wasteland, but lush and fertile.
The film was based on an animated TV series in 1991-1995, by Peter Chung. It was directed by Karyn Kusama, written by Phil Hay and Matt Manfredi, and produced by Gale Ann Hurd and others. It was poorly received by critics and lost money. Originally, it was supposed to star Michelle Rodriguez and be filmed in the modernistic Brasilia, but the location proved problematic, and it was filmed in Berlin and Potsdam. Charlize Theron was injured doing stunt-work and shooting was halted for a month. Several of Charlize Theron's remarkable costumes were designed by Jean-Paul Gaultier. A four-issue Dark Horse comic-book series appeared as a prequel.
The film was taken away from director Kusama and re-edited to make it less artistic, but it tested badly, and they asked her to re-edit, leaving out huge parts of the plot. The studio's version was R-rated, with more blood and with Charlize Theron nude scenes, which they then threw out to get a PG-13 rating. It screened in competition with Harry Potter and the Goblet of Fire, The Lion, the Witch, and the Wardrobe, and King Kong. It never had a chance, but one must wonder how it would have fared if the studio had not buggered up the whole plot. Charlize Theron's acrobatics were often quite astonishing on the screen and the sets were impressive.