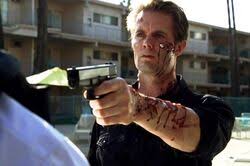 We open with Kyle Reese at eight (Skyler Gisond) and Derek Reese at fifteen (Ryan Kelley) playing ball in their yard as the nuclear missiles are launched.
Someone named Sarkissian claims to have the Turk 2 program and offers to sell it to Sarah (Lena Headey). A front man tracks her to the Barrio where Carlos (Jesse Garcia) lives, and kills several members of the gang. Sarah and Cameron are told to bring half a million dollars to a food court to buy Turk 2. But the whole thing is a setup so Sarkissian's man can get into the Connor house and wait for them. The front man tries to blackmail Sarah for two million. One of his thugs watch John on a field trip. Cameron kills their stalker and stuffs him in his trunk. Then Morris (Luis Chavez) asks Cameron to the prom. "Is that your car?" "No, it belongs to the man I killed and stuffed in the trunk." "John, your sister is dark, Bro."
Carlos's companion Chola (Sabrina Perez) gets revenge for the killings in the Barrio by giving info to Sarah and Cameron. They kill the front man, and take Sarkissian's hard drive, but still do not have Turk 2. Derek takes John to a park where the younger Reese boys are playing. He tells John that he knows Kyle was his father.
Agent James Ellison is onto Cromartie (Garret Dillahunt) for his doctors' murders. He leads a raid on Cromartie's motel and 21 FBI agents are killed. Ellison is the last nan standing and faces off with Cromartie. Cromartie believes Ellison will end up helping him track down the Connors, so he lets him live. Charley (Dean Winters) see Cromartie leave. As Cameron leaves the house, she sees a man walk away and when she starts the car it explodes.
Chola found the Connor house by following Sarkissian's henchman. A Madonna and child are on her dashboard. Too subtle? This episode was not supposed to be the season finale, but the writers went on strike. The short season of fourteen episodes became a short season of nine. Richard T. Jones, like his character, is a religious believer. In fact, he is an ordained minister.