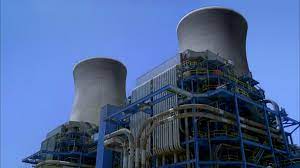 A time displacement sphere appears, and a badly wounded man stumbles out of it. Clutching his chest, he grabs some clothing from a homeless man and runs off. Sarah (Lena Headey), Derek (Brian Austin Green), and Cameron (Summer Glau) prepare to move into a new home. The man from the future, Wells (Zack Ward) crashes in and tells them about someone named Greenway and the Serrano Point Nuclear Power Plant before he dies.
They go to the plant, which Derek remembers from the future. The girls obtain janitorial jobs and Sarah befriends Greenway (Paul Schulze), a nuclear technician. He's a cancer survivor with a scar, but his co-workers dislike him because he is a stickler for safety and the plant's opening is threatened. If the plant is activated unsafely, Skynet benefits, and if it is not activated, the Resistance won't control it in the future. Sarah is told to suit up because there is a spill in the next room, but she is terrified of cancer now, and in the Hazmat suit, she panics and leaves. A faulty scan indicates she is contaminated, and she is scrubbed down by an executive, probably to scare her away.
Agent Ellison (Richard T. Jones) goes to Charley's (Dean Winters) home to talk, and Charley tells his wife Michelle (Sonya Walger) all about the Connors and the Terminators. Ellison says to move to a safer place. John meets a new friend at school, Riley Dawson (Leven Rambin). Sarah is suspicious when she meets her but lets her stay. The next day, when Greenway activates the plant, Sarah notices his scar is gone and she guesses he was replaced by a T-888. Derek finds the real Greenway hanging in his house. The Terminator begins to overload the reactor, but Cameron attacks him. Sarah snatches a gun from a guard to help her but would have to go through the contaminated area. She does so and shoots the Terminator, distracting it sufficiently for Cameron to slam it into a pair of transformers, frying it. Then Cameron puts the parts in an empty nuclear waste barrel.
A rep from Automite systems comes to take control of the plant and install artificial intelligence to eliminate human error in the future. Then he gets into his car and morphs into Catherine Weaver (Shirley Manson), the T-1001. After a long hot shower, Sarah finds a blood trail in the house that leads to the basement, where she finds a list scrawled in blood, with places, people, and targets, left by the dead resistance fighter.
According to canon, metallic objects cannot travel in time without skin coverings. The bullet must have entered Wells's body in the future, was inside it him as he transited, and exited after he arrived. That's the story and they're sticking to it. Sarah knew he was a resistance fighter because of his barcode tattoo. If he had been sent by future John Connor, he would have known where they lived. As for the whole nuclear story, my advice is to ignore the plot-holes and enjoy Cameron's deadpan comedy, Lena Headey all wet, and the goofy Riley, who reminds me a bit of Luna Lovegood.