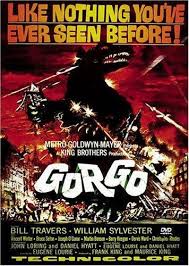 Captain Joe Ryan (Bill Travers) is salvaging treasure off the coast of Ireland when his ship is nearly sunk by an erupting volcano. He and his first mate Sam Slade (William Sylvester) limp into Nara Island for repairs. While they are waiting for the Harbormaster Kevin McCartin (Christopher Rhodes), they meet a young orphan boy named Sean (Vincent Winter), who invites them to see the man's collection of ancient Viking relics. Ryan is impressed by the image of a creature called Ogra the Sea Spirit.
Joe and Sam meet with McCartin, who reluctantly reveals his stash of illegally salvaged gold relics. Ryan contemplates calling the police. Ryan's divers check the harbor for other divers who have disappeared, and one of them dies of fear. That night, some fishermen go out and are attacked by a gigantic creature, which they drive off with fire. Joe and Sam make a deal with the Harbormaster: in exchange for some of his gold, they will rid him of the monster.
Meeting with the fishermen, and with McCartin's help, Ryan and his crew capture the creature and haul it aboard their ship. Sean tells them this is a mistake, but they ignore the kid. The kid stows away on board to follow the creature. Two University Scientists, Professor Leroy Hendricks (Joseph O'Conor) and Professor Marius Flaherty (Bruce Seton), arrive to study it, but Ryan has already sold it to Dorkin's Circus in London.
Andrew Dorkin (Makain Benson) names it Gorgo after the Gorgon Medusa and puts it in a pit at Battersea Park. The scientists tell Ryan and Slade that it is an infant and its mother must still be out there. The Royal Navy takes charge. That night, Gorgo's mother emerges from the sea and attacks Nara Island. The next morning, a Royal Navy destroyer attacks her, but its weapons are useless and the entire crew is killed. The mother attacks London and the military is unable to stop her from stomping through the city. Ryan finds the boy and keeps him safe. Gorgo's mother is reunited with her offspring and they return to the sea.
The film was directed by Eugene Lourie and a production team from the U.S., the U.K. and Ireland. Both Gorgo and his mother are played by Mick Dillon in a Gorgo suit. It was originally supposed to be set in Japan as a nod to Godzilla, but that was changed to Australia, but the studio thought nobody cared what happened in Australia, so it was changed to France and then the British Isles. Nara Island was the Aran Islands off the west coast of Ireland. Gorgo in the streets of London was shot on a sleepy Sunday morning. The powerful music was by Angelo Francesco Lavagnino and the 125-piece Sinfonia Orchestra of London. The depiction of the creatures was in suitmation and miniaturization like Godzilla, shot with slow-motion cameras.
Comic books were made by Monarch Books, drawn by Steve Ditko, co-creator of Spiderman. The film was considered for an Oscar for special effects. Gene Simmons of KISS modeled his boots on Gorgo's head. Eugene Lourie hated the use of the military and cut those scenes out of his personal copy. The film has been praised for its special effects and was considered for an Oscar for them. They are pretty good, all things considered. There is a great deal of monument smashing and brick walls falling on hapless Londoners. It was also praised for the unusual ending, in which the monsters survive. It sems Lorie's daughter cried when the Giant Behemoth, which Lourie also directed, was killed, so he decided to save mother and child and have them walk off unscathed into the sea.