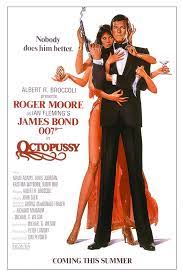 British agent 009 (Andy Bradford) is mortally wounded by Mischka and Grishka (David Meyer and Antony Meyer), twin knife-wielding assassins. The agent, dressed as a clown and carrying a counterfeit Fabergé Egg, crashes into the British Residence and dies. MI-6 believes the Soviets are involved and send James Bond 007 (Roger Moore) to the auction of the real egg in London.
At the auction, Bond swaps the fake egg for the real one and engages in a bidding war with an exiled Afghan Prince named Kamal Khan (Louis Jourdan), who ends up paying half a million pounds for the counterfeit. Bond trails him to his palace in India and defeats him at backgammon using Khan's own loaded dice. Bond and his contact Vijay (Vijay Amritraj) escape Khan's huge bodyguard Gobinda (Kabir Bedi). Khan's associate Magda (Kristina Wayborn) seduces Bond. He lets her steal the real Fabergé Egg, which has a listening device inside. Gobinda knocks Bond out and takes him to Khan's palace, but he escapes and hears that Khan is working with the Soviet General Orlov (Steven Berkoff), who is looking to extend Soviet influence in the world.
Bond infiltrates a floating palace in Udaipur and meets Octopussy (Maud Adams), smuggler and Khan's associate. She is head of the Octopus Cult and Magda is a member. Octopussy's father was the late Major Dexter-Smythe, whom Bond arrested for treason. She thanks him for allowing her father to suicide to avoid trial and she invites Bond to be her guest.
Bond discovers that Orlov has been supplying Khan with priceless Russian treasures and smuggling them into the West with Octopussy's circus troupe. Orlov plans to meet Khan in East Germany at the circus. Khan's assassins have killed Vijay. Bond infiltrates the circus and finds that Orlov has replaced the treasures with a nuclear warhead set to explode when the circus entertains the U.S. Air Force in West Germany. Bond takes Orlov's car and boards the circus train. After some rather amazing fights atop the train and car-chases through German villages, Orlov is killed and Bond kills Mischka and Grishka, then penetrates the circus and convinces Octopussy that Khan has betrayed her. She helps him deactivate the bomb, saving the day.
Khan returns to his palace and prepares to escape. Bond arrives just as Octopussy's troops assault the palace. Octopussy tries to kill Khan but is captured by Gobinda. Taking her as hostage, Khan and Gobinda abandon the palace. They try to escape by plane, but Bond disables it. Gobinda falls to his death, Bond and Octopussy jump to safety, and Khan is killed when the plane crashes. Bond recuperates with Octopussy on her private yacht.
The film was directed by John Glen, the script written by George MacDonald Fraser, Richard Maibaum, and Michael G. Wilson, based loosely on the short stories Octopussy and The Living Daylights by Ian Fleming. It was produced by Albert Broccoli and Michael G. Wilson  and released four months before Sean Connery appeared in Never Say Never Again. It made money but was met by mixed reviews. It was set in India because Bond films had never been there. Roger Moore had not planned to be in the film, but when Sean Connery appeared in competition, Moore was persuaded to return. John Barry also returned to do the score. The film performed better than the Connery film. The action scenes were praised, but the dumb jokes in which Roger Moore wears a clown suit and a gorilla costume and does the Tarzan yell as he swings on a vine were just embarrassing.
Barbara Carrera turned down the role of Octopussy to work with Sean Connery in Never Say Never Again. Vijay Armitraj was not in Actor's Equity, but Albert Broccoli arranged for him to appear on the Fantasy Island TV series in 1977, so he would have Screen Actors Guild membership. Paul Hardwick played the Soviet Chairman role because he resembled Leonid Brezhnev, but Brezhnev died before the movie was released. Roger Moore was an executive board member at the House of Fabergé. The blue-ring octopus is terminally venomous and there is no antidote, but the octopus in the film is the size of the Alien Facehugger, and the real creature is tiny. The real Fabergé egg was the Imperial Coronation egg by Peter Carl Fabergé. Inside is a model of the Russian Imperial coronation coach in gold and diamonds. The fake copy appeared in Ocean's Twelve in 2004. Udaipur's Lake Palace Hotel is now referred to as the Octopussy hotel.