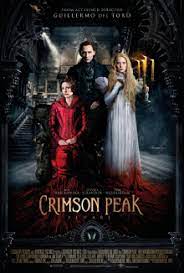 In Buffalo, New York, in 1887, young American heiress Edith Cushing (Sofia Wells), the daughter of wealthy businessman Carter Cushing (Jim Beaver), sees her mother's ghost (Doug Jones), who tells her to beware of Crimson Peak. In 1901, Edith (Mia Wasikowska) is a young woman and meets the Baronet Sir Thomas Sharpe (Tom Hiddleston) and his sister Lucille (Jessica Chastain). He is looking for investors for his invention, a mining machine. But Carter Cushing rejects his proposal. Thomas and Edith become affectionate and Cushing hires a private detective who digs up shocking information about the Sharpe family. Cushing bribes Thomas and Lucille to leave America, breaking Edith's heart.
Thomas explains and they reconcile, just before Cushing is brutally murdered. Edith's childhood friend Doctor Alan McMichael (Charlie Hunnam) is suspicious. Thomas marries Edith and they move into Allerdale Hall, the family's dilapidated mansion in Cumberland, which is slowly sinking into the red clay of the mine below. Lucille makes tea for Edith with Firethorne Berries and Thomas persuades her to invest her father's fortune in his mining machine. He mentions that the estate is called Crimson Peak because of the red clay.
Edith begins coughing up blood, is plagued by nightmares, and sees horrible ghosts in the house. In a closet, she finds wax phonograph cylinders and a ghost chases her into the cellars, where she finds a locked trunk engraved with the name Enola. Thomas takes her to the post office, where she receives a letter addressed to E. Sharpe. On a snowy night, the couple finally make love, which infuriates Lucille. Edith steals a key from Lucille bearing the name Enola and unlocks a trunk to find a gramophone and secret documents. They reveal that Thomas previously married three wealthy women, including Enola Sciotti, and that Lucille has been poisoning Edith with the tea. Edith finds Thomas and Lucille in an incestuous embrace and confronts them. Lucille pushes her off the balcony.
Doctor McMichael has learned what Cushing had found out about the Sharpes: Thomas's multiple marriages and the fact that Lucille had been in a mental institution. He goes to Allendale Hall to rescue Edith and arrives in time to treat her injuries from the fall. Before he can take her away, however, Lucille stabs him and orders Thomas to finish him off. Instead, Thomas fakes Alan's death and hides him in the cellar. Lucille forces Edith to transfer a deed and confesses to murdering Thomas's previous wives and bearing a child with him, which died. These are the ghosts Edith has seen. She also murdered Edith's father and her own mother, who discovered the incest.
Edith stabs Lucille with her pen and flees but is discovered by Thomas, who has fallen in love with her. He begs his sister to join them in their new life, but Lucille stabs him to death. She chases Edith with a cleaver but is confronted by Thomas's ghost and Edith kills her with a shovel. She says farewell to Thomas as he vanishes. Edith and Alan are rescued by the villagers and Lucille becomes the sad piano-playing ghost of Allerdale Hall. Edith writes a book about it all and calls it Crimson Peak.
This extraordinarily Gothic ghost story was directed by Guillermo del Toro, written by him and Matthew Robbins. They had collaborated on Mimic and Robbins has worked with Steven Spielberg and George Lucas. It premiered at Fantastic Fest and was released in the U.S. in standard and IMAX formats. Critics praised the atmosphere and production values, the performances and direction. It performed poorly at the box-office, however. It received nine Saturn Award nominations and won three, including Best Horror Film. Stephen King praised it highly.
The amazing house was built new and entirely, in the studio, then torn down at the end of the shoot. Del Toro said the film was inspired by The Innocents (1961), The Haunting (1963), The Exorcist (1973), The Omen (1976), and the Shining (1980). Cushing was named after actor Peter Cushing. The women's costumes were made with real antique fabrics and lace. The tea set is the Old Imari pattern by Royal Crown Derby. The ghosts throughout, though scary as hell, do not threaten Edith, they protect and help her.