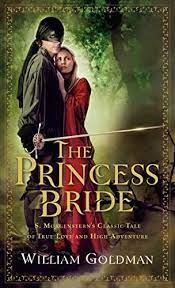 A grandfather (Peter Falk) reads a book to his ailing grandson (Fred Savage) about a princess. At first, the boy doesn't want to hear about a princess, but he gradually becomes enthralled. Buttercup (Robin Wright) is a young woman living on a farm in the kingdom of Florin. The farmhand Westley (Cary Elwes) always does what she tells him to, responding, "As you wish." Gradually, they fall in love and he leaves to make his fortune overseas so they can marry. When his ship is sunk by the Dread Pirate Roberts, he is believed to be dead. Five years later, Buttercup is betrothed to the heir to the throne of Florin, Prince Humperdinck (Chris Sarandon), though she does not care for him.
She is kidnapped by three outlaws—Vizzini (Wallace Shawn) from Sicily, Fezzik (André the Giant) from Greenland, and Inigo Montoya (Mandy Patinkin), a Spanish fencing master who seeks revenge against the six-fingered man who killed his father. A masked man in black is pursuing them, and so is Prince Humperdinck and his troops. The man in black confronts the outlaws on the top of the Cliffs of Insanity. He defeats Inigo in a duel, rendering him unconscious, chokes Fezzik, and tricks Vizzini into drinking poison. He takes Buttercup prisoner and leaves, finally stopping near a gorge. Buttercup realizes that he is the Dread Pirate Roberts and berates him for killing her beloved Westley, and then she shoves him into the gorge. He shouts, "As you wish," as he falls and she realizes that the Dread Pirate Roberts is actually Westley, and she jumps into the gorge after him.
Now that they are reunited, they cross the dangerous Fire Swamp to avoid Humperdinck, and Westley explains that the Dread Pirate Roberts is an inherited title, which he took when the previous Roberts retired. Humperdinck captures them and Buttercup agrees to return with Humperdinck and marry him if he spares Westley, but Humperdinck's sadistic Vizier, Count Rugen (Christopher West) is told to take him to the torture chamber, the Pit of Despair. Westley notices that Count Rugen has six fingers.
When Buttercup begs Humperdinck not to marry her, he promises to find Westley for her, though he really intends to start a war with Guilder by killing Buttercup and accusing them of the death. Vizzini was to do this for him. Meanwhile, Inigo and Fezzik are reunited when Humperdinck orders them to be arrested in the forest. Inigo realizes he needs Westley's help in storming the castle. Buttercup calls Humperdinck a coward and he imprisons Buttercup and tortures Westley to death. Inigo and Fezzik find him and take him to a healer called Miracle Max (Billy Crystal), who brings him back to life, yet still very weak.
Westley, Inigo, and Fezzik storm the castle. Humperdinck panics and shortens the wedding ceremony. Inigo finds Rugen and, after an amazing swordfight, kills him. Westley finds Buttercup, who is in suicidal despair because she is married to Humperdinck, but Westley assures her that the wedding is invalid because she never finished her vows. Humperdinck challenges Westley to a duel and Westley gains his strength sufficiently to force Humperdinck to surrender. Inigo is not sure what to do now that his revenge is complete and Westley suggests he become Dread Pirate Roberts. They all ride off. Back in his bedroom, the boy asks his grandfather to tell him the story again tomorrow, and he says, "As you wish."
The film was directed and co-produced by Rob Reiner, adapted by William Golden from his novel. It was well-received by critics but had only modest success at the box office but is now considered one of the best films of the Eighties and perhaps the best of Rob Reiner's career. It won the 1988 Hugo award and is in the Library of Congress as culturally significant. The book had been given to Rob by his father Carl Reiner and Rob had always wanted to film it. Lots of directors considered it, including Francois Truffaut, Robert Redford, and Norman Jewison, but with Norman Lear's support, Reiner got it. Every actress from Uma Thurman to Whoopi Goldberg auditioned for Buttercup, but when Robin Wright turned up at William Golden's door and was suddenly bathed in sunlight from heaven, he knew she was the one.
Cary Elwes and Mandy Patinkin learned to fence with both left and right hands, trained by Bob Anderson and Peter Diamond, who had trained Errol Flynn and Burt Lancaster, not to mention all the actors in the Star Wars Trilogy. The running dialog during the swordfight between Patinkin and Christopher Guest, in which they mentioned the names of all their moves, was based on the real names of those who had invented them. This was Mandy Patinkin's favorite role. Christopher Guest plays a Count, but Guest is actually a Baron. Robin Wright and Carry Elwes fell in love, which was a great help with their screen chemistry. They kept asking for another take of their last kiss in the movie. Rob Reiner had to leave the room when Billy Crystal was being filmed because he was made sick from laughing at Crystal's ad-libs. Black Bart, the famous 18th Century Caribbean pirate was actually named Roberts.
Arnold Schwarzenegger was to play Fezzik because André René Roussimoff (André the Giant) was busy with his wrestling career, but by the time filming started Schwarzenegger was a big star and they couldn't afford him, and Roussimoff was no longer wrestling. He was too injured from wrestling to carry another a human being and they had to rig up something like that used by Lock Martin (Gort) in The Day the Earth Stood Still. Roussimoff would call everybody Boss because he found it helped make him less intimidating. The only injury Mandy Patinkin suffered despite the swordfights and strenuous action was a bruised rib from laughing at Billy Crystal. The film garnered two thumbs up from Siskel and Ebert and 97% on Rotten Tomatoes. Sony pictures later tried to reboot the story but the violent reaction from fans convinced them otherwise. In the words of Vizzini, " Inconceivable!"