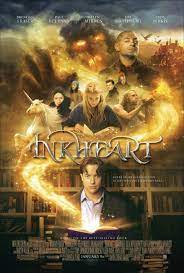 Mortimer "Mo" Folchart (Brendan Fraser) and his wife Teresa "Resa" (Sienna Guillory) are reading Little Red Riding Hood to their baby daughter Meggie when a red velvet hood appears out of thin air. Twelve years later, Meggie (Eliza Bennett) visits an old bookshop with her father, where he is looking for a copy of the book Inkheart. He finds the book and shortly thereafter the girl runs into a horned marten outside the shop and it tries to bite her fingers. A man (Paul Bettany) appears out of the shadows, claiming to be an old friend of her dad, who recognizes him as Dustfinger. Then he flees with Meggie.
Meggie is taken to visit her great-aunt Elinor (Helen Mirren) in Italy, where Meggie is told that nine years before Mo was reading Inkheart and inadvertently brought Dustfinger into the real world. It sems he always had this ability. But the book's villain, Capricorn (Andy Serkis with his own face for a change) and his henchman Basta (Jamie Foreman) also appeared. Now, it seems that his wife Resa has been taken into the book. Then Capricorn and Basta arrive and capture the whole family. Elinor's library is destroyed and the book Inkheart is seized. Mo, Meggie, and Elinor are taken to Capricorn's castle in the book's reality.
In captivity, Mo explains that when he reads a book. someone or something from the real world is sent into it. Now it is his wife. Capricorn forces Mo to use his gift to steal treasure from a story in Arabian Nights, and one of the Forty thieves, Farid (Rafi Gavron) comes with it and is imprisoned. Dustfinger is able to escape in the tornado from The Wonderful Wizard of Oz. Elinor leaves to try to take back part of her library and the others head for Alassio, the hometown of Inkheart's author Fenoglio (Jim Broadbent). Dustfinger joins them but learns that he will die at the end of the book trying to save his marten, Gwin. He tells Mo that Resa is trapped in the castle and has lost her voice.
Mo and Dustfinger take Fenoglio's car and Farid hides in the trunk. At Fenoglio's house, Meggie reads aloud and brings in Toto from the Wizard of Oz, discovering that she has that skill too. Bast attacks with his men and takes them all to Capricorn. Elinor goes after them on her motorcycle. At the castle, Capricorn orders Meggie to read into shape a monster in Inkheart called the Shadow (Marnix Van Den Broeke) and threatens to harm her mother if she refuses. Mo sneaks into the castle. Dustfinger is captured but escapes.
Mo tries to free Meggie and the others as she reads Shadow out of the book. Dustfinger sneaks into the castle with Farid and sets it on fire. Fenoglio gives Meggie a rewrite of part of Inkheart. Elinor arrives with the creatures Capricorn has imprisoned. Meggie writes out the story on her arm and as she reads it. Capricorn turns to ashes and the Shadow devours him. All his henchmen vanish. Then the Shadow explodes and the creatures return to where they belong. Fenoglio gets to live in the world he created. Meggie's mother's voice is restored. Dustfinger is safely in the world of Inkheart and reunited with his wife Roxanne (Jennifer Connelly). In the real world, Farid reveals that he saved Dustfinger from death by hiding Gwin the marten. He leaves with Mo and his family and Meggie agrees to teach him how to read as he teaches her how to start fires with dragon breath.
The film was directed by Iain Softley, produced by Cornelia Funke, Dylan Cuva, Sarah Wah, Ute Leonhardt, Toby Emmerich, Mark Ordesky, Llean Marsel and Andrew Licht, the script written by David Lindsay-Abaire, and the music by Javier Navarette, all based on the 2003 German novel by Cornelia Funke. It received mixed reviews, considered cliché-ridden and lifeless by some, and made less money than expected. The author of the book told Brendan Fraser that he was the inspiration for Mo. Double Negative created the pretty scary Shadow and other visual effects. The exteriors were shot in Italy, the interiors in England.
Cornelia Funke was worried about her ability to influence casting if she sold the rights to be filmed, so she became a producer. She was torn between Mark Odesky, David Heyman of the Harry Potter films, Lorenzo di Bonaventura of Stardust, and Deborah Forte of The Golden Compass for producer. It is ironic that Andy Serkis played a villain allied with an unholy demonic creature of fire and ash, when you consider that perhaps his greatest character, Gollum, served Sauron, Lord of the Rings. Since I spent 35 years working in a library, I am required by law to love this book. It is charming, full of interesting characters, and has a lot of heart. I spent the time chuckling at the interesting characters portrayed by fine actors and the literary surprises in the plot.