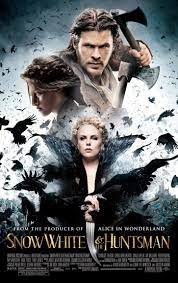 Admiring a red rose blooming in the winter snow, Queen Eleanor of Tabor (Liberty Ross) pricks her finger on a thorn. Her blood falls on the snow and she wishes for a daughter with skin as white as snow, lips as red as blood, and hair as black as a raven's wing. She gets her wish with the birth of Snow White (Raffey Cassidy and later Kristen Stewart), but the Queen falls ill and dies. King Magnus (Noah Huntley), at war with an army of glass soldiers, finds a beautiful prisoner called Ravenna (Charlize Theron) and marries her.
But Ravenna is a powerful sorceress with the gift of charm. She had conjured up the glass army herself. On their wedding night, she confesses that a King like Magnus had abused and discarded her. She kills Magnus and takes over the kingdom, becoming an evil stepmother to Snow White. The girl's friends William and his father Duke Hammond (Sam Clafin and Vincent Regan) go into exile and Snow White is locked in a tower for years.
The Kingdom of Tabor declines under Ravenna's rule. She draws the blood of young women to keep her beauty. When Snow White is of age, the Queen's magic mirror tells her that Snow White will destroy her unless she consumes the girl's heart. The Queen orders her brother Finn (Sam Spruell) to seize the Princess, but she escapes into the forest where Ravenna has no power. So Ravenna tells Eric the Huntsman (Chris Hemsworth) to capture her, promising to revive his dead wife as a reward. But Finn reveals that Ravenna has no such power and the Huntsman helps Snow White escape. William joins the hunt undercover, hoping to protect her.
Snow White saves the Huntsman's life from a troll. They hide out in a village filled with women who have disfigured themselves to escape Ravenna's depredations. The Huntsman sees the village being burned down by Finn's men, and they hide out this time with eight dwarves (Ian McShane, Bob Hoskins, Ray Winstone, Nick Frost, Toby Jones, Eddie Marsan, Johnny Harris, and Brian Gleeson, their faces digitally reduced and placed on small bodies.) One of them has second sight and sees that only Snow White can destroy Ravenna.
They are attacked in a fairy sanctuary by Finn's men. Finn and one dwarf is killed. William joins the group. Ravenna disguises herself as William and gives Snow White a poisoned apple. William kisses her and she sheds a tear in her state of paralysis. Her body is taken to Hammond's castle. The Huntsman kisses her as well and she sheds a second tear and awakes to rally the Duke's army to attack Ravenna. The dwarves open the gates of the castle. Ravenna attacks Snow White, but she stabs Ravenna to death. Snow White is crowned Queen.
The film was directed by Rupert Sanders (his first) from a screenplay by Evan Daughtery, John Lee Hancock, and Hossein Amini, based of course on the faerie tale published by the Brothers Grimm. It was a box-office success and generally well-received by critics, though some criticized the screenplay. It was nominated for Best Special Effects and Costume Design by the Oscars. This was Bob Hoskins' final role as he died shortly thereafter. It was criticized by little actors for its decision to use full-size actors for the Dwarf roles.
When Daugherty wrote the screenplay in 2003, he was a student at NYU. When Terry Gilliam's The Brothers Grimm flopped at the box-office, no-one wanted to take a chance on a faerie story, but the success of Tim Burton's Alice in Wonderland changed minds. Kristen Stewart was criticized as pouty and shallow, Charlize Theron was praised as truly evil, but also criticized as over the top. Take your pick. A planned sequel was cancelled after Director Rupert Sanders cheated on his wife with Kristen Stewart. Eventually, The Huntsman's Winter War was made but it was not well received. Ravenna was based on Elizabeth Bathory, the 17th Century serial killer who bathed in the blood of virgins.
Kristen Stewart accidentally gave Chris Hemsworth a black eye and Charlize Theron injured herself screaming, but mostly complained about her corset in the wedding scene. The drops of blood in the opening scene are those of the director. He pricked his finger to get realistic blood. Kristen Stewart was afraid of horses because of a previous injury. The wonderful white stag in the film was taken from Hayao Miyazaki's Princess Mononoke. Snow White's rallying speech to the troops owes much to Shakespeare and Joan of Arc. I'm not sure Kristen Stewart is the great beauty mentioned in the script, but parts of the film are quite beautiful, others gritty and bloody. The magic and the faerie are impressive.