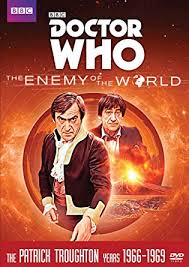 The Doctor and his companions are enjoying themselves on an Australian beach in 2018 when three armed men try to assassinate the Doctor. Astrid Ferrier (Mary Peach) rescues them with a helicopter and brings them to Giles Kent (Bill Kerr) who tells them that the Doctor is the perfect double of the powerful megalomaniac Salamander, who is using his technological wizardry to amass great power, and asks him to impersonate Salamander to help get the goods on him.
Salamander's powerful security chief Donald Bruce (Colin Douglas) is fooled for a short time. Jamie, Victoria, and Astrid infiltrate Salamander's organization. Salamander's prediction of an earthquake proves suspiciously accurate, and his rival is arrested for not taking the prediction seriously. Some of Salamander's henchmen are suspicious of the Doctor. Jamie and Victoria are arrested.
Wearing a radiation suit, Salamander takes an elevator to a secret bunker, where people have been convinced that the surface of Earth is bathed in atomic radiation, but Salamander is bravely venturing to the contaminated surface to find food for them. They must continue the doomsday war by bringing about natural disasters. One of them, however, is suspicious, and Salamander brings him to the surface, warning him that he may never return, then promptly shoots him. Astrid, hiding out from Salamander's security forces, finds the man dying and learns about the enclave. She descends and tells the prisoners the truth.
Other members of Salamander's conspiracy are unmasked, and traitors are discovered. Salamander kills more of his associates, but the cave system has been planted with a bomb, which is triggered. Salamander, injured in the explosion, approaches the TARDIS. Jamie and Victoria think he's the Doctor and are just about to take off when the real Doctor arrives. In their struggle, Salamander is sucked out the open door into the Time Vortex.
The scene with the Doctor and Salamander fighting, routine today, was a technological tour-de-force at the time. The story happened because Patrick Troughton wanted to play roles other than the Doctor. Like many actors capable of playing a comic character, he was brilliant as an evil sociopath. For more than forty years, only Episode Three was known to have survived, but in 2013 the BBC announced that they had found the other five episodes in a TV station in Nigeria. Parts of the story, stretched to six episodes, are a little slow, but there are scenes of fast-paced action, and intriguing minor characters played by excellent actors. And the music of Bartok, ranging from exciting to mysterious to downright creepy, is a plus.
Part 1
Part 2
Part 3
Part 4
Part 5
Part 6