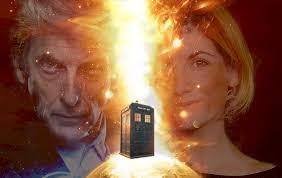 The First Doctor (David Bradley) is wandering in Antarctica, not wanting to regenerate. He finds the Twelfth Doctor (Peter Capaldi) outside his own TARDIS, feeling the same way. They are approached by an injured First World War British Captain (long-time Doctor Who writer and actor Mark Gatiss), who had vanished in 1914 to appear in this place. The three are taken aboard a spaceship. Bill Potts (Pearl Mackie) is inside, through the current Doctor doesn't believe she's real. They are offered freedom if they return the Captain to the moment of his death. They refuse and take the Captain in the First Doctor's TARDIS to the planet Villengard in the far future.
The Twelfth Doctor meets with the rogue Dalek called Rusty (Voice of Nicholas Briggs, as usual), who is hiding from the Daleks. Peering into the Dalek hive-mind, the Doctor learns that the spaceship, called Testimony, and its transparent holographic pilot (Nikki Amuka-Bird) were created on New Earth to extract people at the time of their death and archive their memories. The Doctors agree to return the Captain where he belongs. He agrees and asks them to watch over his family, the Lethbridge-Stewarts. Time starts up again, and both sides of the war stop shooting and sing Silent Night. The Twelfth Doctor confesses to the First Doctor that he shifted Time to the Christmas Truce to save Lethbridge-Stewart's grandson, the Brigadier.
He is now ready to regenerate and returns to his TARDIS, where Nardole has turned up. He tells the Avatar Bill that she is not real, and she counters that memories define the person. She restores the Doctor's memories of Clara. He embraces them both and they leave him alone. He regenerates into the Thirteenth Doctor (Jodie Whittaker), but the TARDIS is damaged by the delayed regeneration. The new Doctor falls out of the crashing TARDIS.
This was the last Doctor Who story written and produced by Steven Moffat and the last to be scored by composer Murray Gold. Reviews were positive. The episode was a finalist for the Hugo and nominated for the Saturn Awards. Clips from both the classic and revived series abound. The episode that featured the first appearance of the Second Doctor is long lost, but the regeneration scene itself was used in the Blue Peter children's show and survived. Bradley speaks slowly sometimes as if trying to remember his lines, as William Hartnell often did toward the end. In the Day of the Doctor anniversary episode, all we saw of Peter Capaldi was his eyes; here it is the last we see of him. It has been a long and wonderful ride since the blue box first appeared in a junkyard in 1963. There were stupid rubber monsters and some woeful special effects, but there was one amazing story after another, and it is still going on.