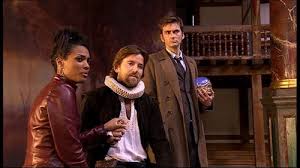 The Doctor (David Tennant) had promised to take Martha Jones (Freema Agyeman) on one trip. He chose to take her to see Love's Labours Lost at the Globe Theatre in 1599. At the end of the play, Shakespeare (Dean Lenox Kelly) announces a forthcoming sequel named Love's Labours Won. A witch named Lilith (Christina Cole) uses a voodoo doll to put words in Shakespeare's mouth. He announces that the play will premiere the following evening. Lynley, Master of the Revels (Chris Larkin) demands to see the script, but Lilith drops a doll of him in water and stabs it in the chest. He dies. Lilith then compels Shakespeare to write a special speech for the end of the play.
In the morning, the Doctor, Martha, and Shakespeare attend the Globe Theatre. Wondering why the theatre has fourteen sides, they visit the architect in Bethlehem Hospital. His name is Peter Strete (Matt King) and he is catatonic. The Doctor brings him out of it and he reveals that the witches dictated the shape of the theatre to him. The witches Lilith, Doomfinger (Amanda Lawrence) and Bloodtide (Linda Clarke) are watching in their cauldron. Doomfinger teleports in and kills the architect with a touch. The Doctor knows the witches are Carrionites, who use the power of words to manipulate psychic energy. By naming her such, the Doctor repels her.
The witches want to use the power of the speech they gave Shakespeare to break their species out of containment. Lilith tells the Doctor that Shakespeare released the three of them by his words after the death of his son Hamnet. Lilith stops one of the Doctor's hearts and flies off. Shakespeare tries to stop the play but is not successful. When the actors speak the words, a portal opens up and the Carrionites come into the world. Only Shakespeare can speak the words to stop them. He tries but is stuck on the last word until Martha suggests Expelliarmus. The witches and all the copies of Love's Labours Won are sucked through the portal.
Shakespeare refers to Martha as his Dark Lady. Then he flirts with the Doctor too. There are many other joking references to Shakespeare, and to Harry Potter. Queen Elizabeth I also appears, antagonistic toward the Doctor. Scenes were filmed in the recently rebuilt Globe Theatre in London, but only at night, when plays in 1599 would not have been presented because of the lack of proper lighting, but the theatre was actually being used every day and the BBC could only get it at night. Love's Labours Won was an actual lost Shakespeare play. Martha and the Doctor share a bed at the inn, and she tries to seduce him, but he begins to talk about Rose and kills the mood.