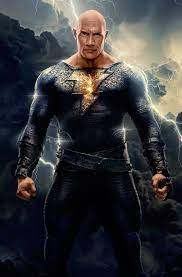 In 2600 BC, Anh-Kot, the evil King of Khandaq, created the crown of Sabbac, which gives great power to those who wear it. A young slave boy, after attempting a revolt, is given the power of Shazam and transforms into Teth-Adam (Dwayne Johnson), Khandaq's heroic champion. He kills Anh-Kot and ends his tyranny. In the present day, Khandaq is oppressed by the Intergang. Archaeologist Adrianna Tomaz (Sarah Shahi) searches for the crown of Sabbac, aided by her brother Karim (Mohammed Amer), Samir (James Cusati-Moyer), and Ishmael Gregor (Marwan Kenzari). Adrianna discovers the crown but the team is ambushed by Intergang. She reads an incantation that awakens Teth-Adam, who slaughters most of Intergang.
Government official Amanda Waller (Viola Davis), whom we know from the Suicide Squad movies, hears of this and contacts Hawkman (Aldu Hodge) and the Justice Society of America, which consists of Doctor Fate (Pierce Brosnan), Cyclone (Quintessa Swindell), and Atom Smasher (Noah Centineo), to help take Adam into custody. They arrive in time to stop him from doing further damage to the city. The JSA explains that Adam was not a savior in his century, but a murderer who was imprisoned.
Ishmael turns out to be the leader of Intergang. He chases Adrianna's teenaged son Amon (Bodhi Sabongui), who has stolen the crown. Adam, Adrianna, and the JSA hope to trade the crown for Amon. They contact Ishmael, who is the last descendant of King Anh-Kot and wants the crown for himself, which Adrianna is willing to give to him. Ishmael betrays them and shoots Amon. Adam, trying to save Amon, loses control and destroys the entire hideout, killing Ishmael.
Tortured by guilt, Adam takes off. He reveals to Hawkman that he is not actually Teth-Adam, but his father. His son Hurut was invincible, so the King's assassins executed Hurut's family, including Adam and Hurut's mother. Hurut passed on his power to his father, turning him into Black Adam. Now that Hurut was no longer invincible, he was killed. Adam slaughtered all the King's men and destroyed the city before being imprisoned by the Wizards of Shazam. Adam surrenders to the JSA, who take him to Waller's underwater prison. But it seems that Ishmael made Adam kill him while he was wearing the Crown of Sabbac  so he would be reborn as the Sabbac demon himself, and he rises from the Underworld.
The JSA tries to stop Sabbac, who summons the undead of Khandac. Before they can attack Sabbac in the ruins, Doctor Fate creates a force-field that stops Hawkman, Cyclone, and Atom Smasher from doing so. Fate battles Sabbac alone and releases Adam by astral projection. Sabbac kills Fate and the forcefield disappears. Adam arrives to battle Sabbac, killing him and saving the JSA. They embrace Adam in his new role as protector and ruler of Khandaq. In a mid-credits scene, Superman arrives to speak to Adam.
The film is a spin-off from Shazam, directed by Jaume Collet-Sara and written by Adam Sztykiel, Rory Haines, and Sohrab Noshirvani. It was produced by Dwayne Johnson himself. He was originally supposed to appear in Shazam but was later given his own film. He asked his fans whether he should play Shazam or Black Adam and his fans picked the latter. The film was delayed by the Covid-19 pandemic and finally appeared in October, of 2022. Critics' and audiences' opinions were mixed. Adam and Shazam are still supposed to meet in the future, and Superman will return as well, played by Henry Cavill. It's usually a bad sign when they talk more about future sequels than about the movie in question.
Jordan Peele was offered the directing job but declined as he was not a superhero fan and felt he should not take a job away from someone who is. A number of gruesome deaths had to be cut for a PG-13 rating. At one point, Eclipso was supposed to be in the film, an interesting DC character as a superhero who becomes a supervillain during eclipses. I can't help thinking that Dwayne Johnson should have picked Shazam to star in instead of Black Adam. The former is a mix of action and comedy that seems to me would have worked well with  the charming, self-deprecating humor that seems second nature to Johnson. "Yes, I know this is dumb," he seems to say with a wink at the audience, "but aren't we having a great time?" Audiences eat it up. Black Adam is a spectacular, even powerful, movie, but a bit too ponderous for my taste.
The Rock does indulge in a bit of deadpan humor now and then, appropriate for someone who has been asleep for a thousand years, but the best lines are spoken by Pierce Brosnan as Doctor Fate, making him sound a bit like Doctor Strange. He twists time and space to use as weapons. Hawkman is a favorite of mine because I read his comics as a kid. Every time he opens his wings, it's a thrill. Cyclone's weapons are tornado-like winds that remind me of Storm of the X-Men. But the most likable member of the Justice Society is Atom Smasher, a gawky and rather sweet teenager that can grow to a stomping 40-foot-tall giant. The movie is only two hours long but it's almost all explosions. There's a lot to see. And hear.