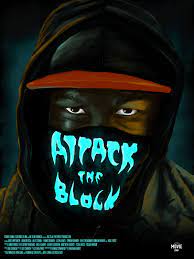 On Guy Fawkes Night, nurse trainee Samantha Adams (Jodie Whittaker) is mugged by a gang of thugs in a London council estate high rise. They are Pest (Alex Esmail), Dennis (Simon Howard), Jerome (Leeon Jones), Biggz (Simon Howard), and the gang is led by Moses (John Boyega). When a meteorite strikes a car, Samantha escapes. Moses searches the car for valuables and is scratched by a small alien. The gang kills the creature and, hoping to make money off it, takes it to the local pot-dealer Ron (Nick Frost) and his boss Hi-Hatz (Jumayn Hunter).
More rocks fall from the sky, but the aliens are much bigger and more dangerous. Running away, the gang encounters the police called by Samantha, and Moses is arrested. The aliens follow Moses and kill the unarmed police, leaving Samantha and Moses trapped in a van. Dennis drives off with it and crashes into Hi-Hatz's car. Samantha runs away.
They try to escape to Wyndham Tower apartment block but are attacked by the aliens. Biggz hides and Pest is bitten. Samantha fixes his leg. An alien attacks and Moses kills it with a Samurai sword. With Samantha, they move upstairs to the flat owned by Tia (Danielle Vitalis), Dionna (Gina Antwi), Gloria (Natasha Jones), and Dimples (Page Meade), who have a security gate. The aliens come in through the window and decapitate Dennis. The girls kick the boys out for attracting aliens. More gang-members are killed but Hi-Hatz escapes.
Upstairs in Ron's weed room, there are more aliens whom the guys distract with fireworks, though Jerome is killed. Hi-Hatz tries to shoot Moses but is killed by the aliens. Brewis (Luke Treadaway) notices in ultraviolet light a luminescent stain on Moses's jacket and thinks it is a pheromone that attracts aliens. Samantha, who is not stained, goes to Moses's flat and turns on the gas oven. Moses sets it off with fireworks. The aliens are killed in the explosion, and it sets the building on fire. Moses, Pest, Brewis, and Ron are arrested. The police ask Samantha to identify them, and she says they are just neighbors who protected her.
This is a very British science-fiction comedy horror movie, written and directed by Joe Cornish. The music was by Steven Price. It did not perform well at the box-office but was praised by critics for its humor and likable characters, played by young unknowns. It was produced by Big Talk Pictures, who also did Shaun of the Dead, Hot Fuzz, and The World's End. John Boyega later played Finn in the Star Wars final trilogy, and Jodie Whittaker later played the 13th Doctor Who. Wyndham Estates was named after British science-fiction writer John Wyndham. It is near Ballard Street, named for J.G. Ballard, who wrote High-Rise. Other streets were named after Alan Moore, Aldous Huxley, H.G. Wells, Arthur C. Clarke, Douglas Adams, and Frank Herbert, or perhaps British horror author James Herbert. As the only human villain in the piece, Hi-Hatz is the only one to use guns.
Joe Cornish grew up in South London himself. He based the story on an actual mugging he experienced, in which the muggers were as scared as he was. He was influenced by M. Night Shyamalan's movie Signs. Cornish studied language to get the South London street-accent just right. There was talk of subtitles for the release in the U.S. The actors were kids in drama clubs. John Boyega found out about the tryouts in an on-line ad. The production used CGI only when absolutely necessary, and then only to enhance practical effects. The actors found the creatures genuinely scary. They referred to them as Dobby the House Elf, Gollum, or the Gremlins. Pest's costume was based on that of Boba Fett from Star Wars. Most of the movie was filmed on Heygate Estate in Walworth, Southwark, South London, which was demolished in 2014. When the movie was released in the U.K., it gave Thor and Fast Five a run for their money.