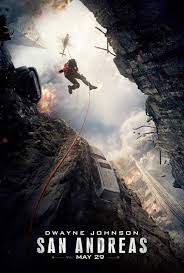 A seismologist at Caltech named Doctor Lawrence Hayes (Paul Giamatti) and his colleague Doctor Kim Park (Will Yun Lee) are testing a new earthquake prediction protocol when an unknown fault ruptures, causing a 7.1 magnitude earthquake. The Hoover Dam collapses, and Park sacrifices himself to save a young girl. Hayes realizes that the whole San Andreas Fault is shifting, and major quakes will take place. He races to warn the California population with his students Alexi (Alec Utgoff) and Phoebe (Marissa Neitling), and Serena Johnson (Archie Panjabi), a reporter.
A 9.1 magnitude quake devastates Los Angeles and San Francisco. A Los Angeles Fire Department helicopter pilot named Ray Gaines (Dwayne Johnson) is going through a divorce from his wife Emma (Carla Gugino), and he rescues her from a skyscraper. Their daughter Blake (Alexandra Daddario) is in San Francisco with her mother's new boyfriend Daniel Riddick (Ioan Gruffudd) when the collapse of a parking garage traps her in Daniel's car. In a panic, Daniel leaves her behind. She is rescued by Ben Taylor (Hugo Johnstone-Burt), a British engineer, and his younger brother Ollie (Art Parkinson), and they take her to Chinatown, where they call her parents.
Ray and Emma try to reach San Francisco in his helicopter, but it breaks down and they are forced to land at a shopping mall being ransacked in Bakersfield. Ray steals a truck to continue the trip, but they stop to help a couple broken down on the side of the road. The rift has cut a fissure through the highway, and they exchange the truck for the couple's sky-diving airplane. Meanwhile, Blake, Ben, and Ollie try to reach Nob Hill to signal her parents, their previous rendezvous location, Coit Tower, being in flames. Ray and Emma parachute into A & T baseball park as a 9.6 magnitude earthquake hits.
Much of the city is destroyed. Ray and Emma commandeer a boat, but a tsunami is coming. They manage to cross the wave before it hits, just missing a container ship, which crashes into the Golden Gate Bridge, destroying it. Daniel, still running, goes down with the bridge. Then the wave capsizes a cruise ship and inundates the city. Blake, Ben, and Ollie enter The Gate, a building that Daniel was constructing, but are caught by the wave. The building collapses, trapping Blake underwater. Ray dives in and rescues her and performs CPR as Emma crashes the boat through the window and rescues them all as the whole building collapses. The survivors regroup at a refugee camp. An American flag unfurls on the broken bridge and rescue vehicles arrive. San Francisco Peninsula is now an island.
The destruction begins with the collapse of the Hoover Dam and goes up from there. It was directed by Brad Peyton, written by Carlton Cuse, Andre Fabrizio, and Jeremy Passmore. It received mixed reviews from critics, who criticized the plot and the character development, but praised Dwayne Johnson and Carla Gugino. The film was produced by New Line Cinema and by Village Roadshow Pictures in both the US and Australia. Carla Gugino had starred with Dwayne Johnson in Race to Witch Mountain. Thomas Jordon, Director of the Southern California Earthquake Centre, gave the production advice on earthquake science, much of which they did not take. He maintains that the San Andreas Fault could not produce a magnitude 9 quake, or a tsunami.
The cast did a lot of their own stunts, particularly Dwayne Johnson. The Bank of America Building at 555 California Street in San Francisco is the same building featured in The Towering Inferno (1974). When Ray and Emma parachute-landed on second base, Johnson ad-libbed, "It's been a while since I got you to second base." Her laugh was real. The apartment building on Clay and Taylor Street was a set used in Bullitt (1968). A 10-year-old boy in Michigan saved his brother's life using a resuscitation technique he saw in the movie and Dwayne Johnson called him a hero. In the last scene, an American flag is unfurled on the Golden Gate Bridge, and there is a Canadian Flag on the hospital ship sailing into the harbor.