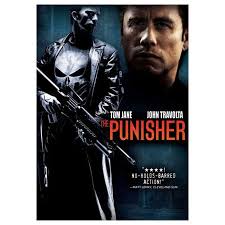 In the second version, Frank Castle (Thomas Jane) is an undercover FBI agent. The rest of the story is pretty similar, but better in most respects, mostly because of Thomas Jane and John Travolta as Howard Saint, the primary villain. Travolta can play an arrogant psycho killer with one hand tied behind his back. Also, Castle interacts with his friendly neighbors, making him less of a sullen loner and more like a good guy. A lot of the characters come straight out of the 2000-2001 "Welcome Home, Frank" comic series by Steve Dillon and Jimmy Palmiotti. The movie was directed by Jonathan Hensleigh (Die Hard With a Vengeance, the original Jumanji, and Armageddon) and produced by Gale Anne Hurd (The Terminator, Aliens, and Tremors) so the action pedigree is pretty good.
In Tampa, Florida, the Russian mob is selling guns to drug-dealers on the waterfront. Police helicopters appear, the FBI shows up, and all hell breaks loose--there are many dead. In the morgue, one corpse sits up. It's Frank Castle (Thomas Jane), undercover. Among the dead is the son of Howard Saint (John Travolta), a kingpin who finances much of the criminal activity in the state. Saint vows revenge on Castle, specifically. We see the event that, in the first movie, was only seen in quick flashbacks.
Castle is at a family reunion on the seashore when Saint's assassin squad shows up to kill the whole family, at the request of Saint's wife Livia, played by Laura Harring as a real piece of work. The entire extended family is murdered-- particularly, after a frantic chase, Castle's wife and son. Castle is beaten, shot, blown up, and dumped in the sea, but he lives. In the ruins of his house, he finds the sweatshirt his son had given him--the white skull on a black background that has become the symbol of the Punisher. He moves into a run-down loft building, where he busies himself building special weapons, armor-plating his car, and training his body.
At first, this activity frightens his neighbors--recovered alcoholic waitress Joan (Rebecca Romijn-Stamos), pierced slacker Spacker Dave (Ben Foster), and obese chef Bumpo (John Pinette). But when Castle sends Joan's abusive ex-boyfriend packing in no uncertain terms--the first time anyone has shown a kindness to any of them--they latch onto him and come to his aid heroically when the mob comes calling.
Castle's protracted revenge is planned and executed like a caper-film. We learn about the entire unsavory family and all the gang, so we know them when they meet their ends, which range from funny to satisfying to horrific, as he destroys Saint's and his drug-lord backers' money, turns everyone against each other, and polishes off in dogged fashion the charismatic hit men sent against him. The entire movie is laugh out loud funny at times, heartbreaking and uplifting by turns, and exciting throughout, sometimes more than one of these at the same time. I think it's one of Marvel's better offerings.