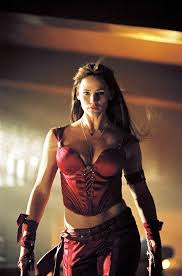 Elektra first appeared in Daredevil #168, her Ninja Master Stick (who trained both Elektra and Daredevil) in Daredevil #176. She was killed by Bullseye in Daredevil #181 and resurrected in #190. Frank Miller wrote a graphic novel called "Elektra Lives Again" and she got her own comic book series in 1996. She battled both HYDRA and SHIELD in 2001. There was also a title "Elektra Assassin" which was published by Epic Comics instead of Marvel because it contained material considered inappropriate for children.
In the movie, Elektra is restored to life after sustaining mortal wounds in Daredevil and becomes the world's most lethal assassin for a shadowy group called The Hand. The movie opens with her next victim hopelessly waiting for her arrival. His chief bodyguard doesn't believe Elektra exists and pretty soon the bodyguard doesn't exist. She tells her victim, "Death's not that bad." "How do you know?" "I died once."
Now she is living in a holiday home on an island while she waits for instructions. There are flashbacks to her mother's death, her father's cruel training, and her intense training with Stick (Terence Stamp), her Sensei. But her quiet vacation is interrupted as a young girl named Abby (Kirsten Prout) breaks into her house to steal things.
Marc Miller (Goran Visnjic) is the girl's father. Abby invites her to Christmas dinner, but he doesn't know because the girl is match-making. The mother is dead. But--you guessed it--the man and the girl are her next marks. Of course, she refuses the job. Of course, others are sent and, of course, she now has to protect them instead of killing them. This is a simple plot, but that is not a drawback in an action flick--rather the opposite is true.
As time goes on, the secrets of the Millers and her secrets from them come out, one by one, and there are many visually astonishing fights.. The assassins are interesting characters, and most have supernatural powers. But so does Elektra. Of note: Roshi (Cary-Hiroki Tagawa), Kirigi (Will Yun Lee), Tattoo (Chris Ackerman), Stone (Bob Sapp), Kinkou (Edson T. Ribero), and Typhoid (Natassia Malthie). The Director, Rob Bowman, has done only one other movie--Reign of Fire--and most of his work was television, but on such shows as Night Stalker, The A-Team, X-Files, Star Trek The Next Generation, and Castle, so he knows a thing to two about action. Trivia: he played a Borg in Q Who.