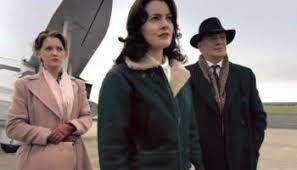 A biplane from 1953 has passed through the rift into the present time, and Torchwood is sent to meet it. It is a de Havilland Dragon Rapide G-AIDL named Sky Gypsy, and there are three people on board: The pilot Diane Holmes (Louise Delamere), a passenger named Emma-Louise Cowell (Olivia Hallinan), and a passenger named John Ellis (Mark Lewis Jones). Torchwood tells them what happened and sets them up with room and board.
Owen (Burn Gorman) bonds with Diane and arranges for flying lessons so she can fly modern planes, though she is dismayed that so much flying is done by instruments. John Ellis finds that his son Alan (Sam Breezely) is still alive in a nursing home but has Alzheimer's and no-one to look after him. With Jack Harkness, Ellis visits his son, who rarely understands or remembers, making Ellis very remorseful. Emma-Louise bonds with Gwen (Eve Myles) and learns about sex in modern times. Gwen is helped by boyfriend Rhys Williams (Kai Owen), though he learns Gwen is lying to him about Torchwood.
Ianto Jones's (Gareth David-Lloyd) car is missing, and Jack finds it in the garage of John's old home as he commits suicide by carbon monoxide poisoning. No-one understands being lost in time like Jack Harkness, and he holds John's hand until they both die, then Jack resurrects as usual. Emma has skills as a retro-fashion artist and finds a job in London. Gwen puts her on a bus. After a night with Owen, Diane plans to take off in the Sky Gypsy, hoping to make it through the Rift back to 1953. Owen reads her note and catches her at the airfield, warning that the Rift could put her anywhere, but after a tearful good-bye she takes off.
The episode was written by Catherine Tregenna and directed by Alice Troughton. There was no antagonist of any kind. Diane speculates that Amelia Earhart might have flown into a Rift herself. Owen's relationship with Diane will cause complications in the future. The episode is often compared with the Star Trek: Next Generation story in which 20th Century travellers are thawed out on the Enterprise, but this one is much superior.