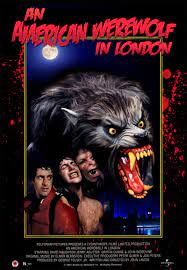 A couple of American backpackers from New York City named David Kessler (David Naughton) and Jack Goodman (Griffin Dunne) are hiking across the Yorkshire moors. They stop at a pub called The Slaughtered Lamb. When Jack asks about a five-pointed star on the wall, the pub-goers become hostile and the travellers decide to leave. The crowd warns them to stay on the road, stay off the moors, and beware the full moon, but they wander off the path and are attacked by an unseen creature. Jack is mauled to death and David is injured. But some of the pub-goers have followed them and shoot the monster. Just before passing out, David sees the corpse of a naked man.
Three weeks later, he wakes up in a London hospital. Police Inspector Villiers (Don McKillop) tells him he and Jack were attacked by an escaped lunatic, but David is sure it was a wolf or a rabid dog. Jack, already beginning to rot, appears to him and tells him it was a werewolf, and David should kill himself before the next full moon. Doctor Hirsh (John Woodvine) drives to The Slaughtered Lamb to get to the bottom of this and the pub-goers deny ever seeing David. But one of them tells the doctor in secret that everyone will be in danger when David transforms.
David meets a nurse named Alex Price (Jenny Agutter) and they hit it off. He stays in her flat. Jack, even more decayed, warns him that he will become a werewolf the next night, but David refuses to believe it. When the full moon rises, David transforms in a famous and riveting special-effects scene. He prowls the streets and the Underground, killing six people, and wakes up naked in the wolf-cage at the London Zoo. He manages to return to Alex's flat.
He tries to get himself arrested in Trafalgar Square and tries to commit suicide in Piccadilly Circus but fails. He sees Jack, more disgusting than before, near an adult movie theatre, who introduces him to his decaying, angry victims. He transforms again inside the cinema, decapitates Inspector Villiers, and wreaks havoc in the streets, killing many more. He is surprised in an alleyway by the police. Alex approaches and tells him she loves him, but he lunges for her and is shot by the police. His body transforms back to a human being.
The film was written and directed by John Landis, who wrote the screenplay in 1969, and for ten years no-one would produce it. They said it was too funny to be a horror movie and too horrific to be a comedy. But after he directed National Lampoon's Animal House and The Blues Brothers, he was bankrolled by Polygram Pictures. It was a great success and is now a cult film. Rick Baker's transformation scene became a template for werewolf films to follow, and it received a Saturn Award for Best Horror Film and an Oscar for Best Makeup.
The idea came when Landis was at work on Kelly's Heroes (1970) in Yugoslavia and he met a group of Gypsies burying a man with wolfsbane so he could not rise from the grave. The studio wanted Dan Aykroyd and John Belushi to star, but Landis went with unknowns. It was filmed in the Black Mountain Moors in Wales. The pub was played by a cottage in Crickadarn and by the Black Swan Pub in Martyr's Green, Surrey. It was the first film allowed to shoot in Piccadilly Circus, after Landis screened The Blues Brothers for police, who stopped traffic for him.
The songs were all romantic ballads about the Moon—Bobby Vinton's Blue Moon, Credence Clearwater Revival's Bad Moon Rising, and Van Morrison's Moondance, plus versions of Blue Moon by Sam Cooke and The Marcels. Cat Stevens would not allow them to use his version of Blue Moon because he had converted to Islam, Bob Dylan would not allow his version to be used because he had converted to Christianity, and Elvis Presley's version was tied up in estate litigation. The score was by Elmer Bernstein. Much of the British cast was appearing in the Royal Shakespeare Company's production of Nicholas Nickleby at the same time. The film inspired a sub-genre of horror comedies like Beetlejuice, Gremlins, Evil Dead 2, and Shaun of the Dead. Michael Jackson hired John Landis, Rick Baker, and Elmer Bernstein for Thriller.
We know Jenny Agutter best, probably, from Logan's Run, but she appeared in British Avengers movies and many serious films, like The Eagle Has Landed, Equus, and The Railway Children. A sequel, An American Werewolf in Paris, was a flop for Disney Studios. Frank Oz and Jim Henson were in the film, the latter as Kermit the Frog. Rick Baker was disappointed in the shortened face-changing scene until he saw it with an audience, who applauded. The werewolf was largely based on Rick Baker's dog.  David Naughton was hired because of his role in a Doctor Pepper commercial, but he was fired by Doctor Pepper after appearing nude in this movie. David Kessler was nude for half the movie. A scene of him naked in the wolf-cage took so long to film that the zoo opened and the public came in to watch. Jenny Agutter was surprised how many men it took to film her in the shower.